The
Perfect Shower
How to get the most out of
your shower each and every day
I take my showers and baths pretty seriously. There's something about the ritual of cleansing that I really respond to. It's soothing and solitary—allowing me time to focus on myself, get lost in thought and literally wash away the past. Whether you shower first thing in the morning, late at night or after the gym, it's one of the few tasks where even the least wellness focused men will indulge in a little self-care.
And while there's not much to say about showering (it's pretty basic, right?), there are ways to optimize and get the most from your time under the spray. Especially if you're a morning shower person like me. This isn't about taking a longer shower. The average American already showers for a little more than eight minutes, utilizing 17.2 gallons of water everyday. This is about being more efficient and effective. The result is that you'll look and feel better by the time you towel off.
A Man's
Perfect Shower Plan
Keep the
Water Warm

A lot of guys believe to really feel clean, you've got to scald your skin under the blast of near-boiling water. This is not the case, as any dermatologist will tell you. It not only dries out your skin but can also cause redness and irritation. Go for soothing warmth, not scalding temperatures ... at least for the first few minutes of your shower (more on that later).
Start With
the Hair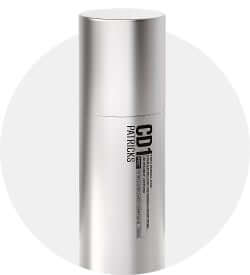 Stimulating & Thickening conditioner, $46 by Patricks
You don't need to wash your hair everyday—that will just strip it of moisture and natural oils. And you don't even need to use shampoo—just conditioner. Try co-washing for a day or two and notice how different your hair looks, feels and behaves after you towel it off. It's less brittle, less frizzy. Your hair has an instant, nice shine to it and the perfect malleability for styling.
Shave
(If You Want)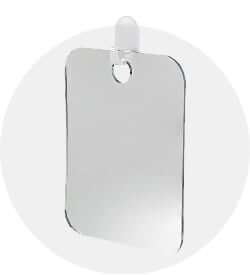 Deluxe anti-fog shower mirror, $14.99 by The Shave Well Company
Currently, I'm not shaving with a razor and shaving cream all that much. I'm a full-time beard trimmer guy these days. But those who do shave know to do it after a shower, since the steam softens the facial hair and the moisture helps decrease irritation. So why not do it in the shower? It's as close to a barber's hot towel shave as you can get at home. And it makes clean up a whole lot easier. Just make sure to outfit your shower with a fog-free mirror.
Really
Lather Up
Do you use a washcloth? A loofah? Or go commando and take the bar of soap right to your skin? Either way, really lather up and wash yourself, don't skimp on areas like your pits and privates. This is why you're here—to get clean. And if you're using a wash cloth or loofah, now's the time to scrub down and exfoliate the skin.
Scrub
Your Feet
Lava rock pumice stone, $9.97 by Pumice Valley
Some guys will proudly tell you that they never wash their feet in the shower. Don't be that guy. Sure, you may not always get to it, but polishing your feet with a pumice stone is a game-changer. Just wet the rock and then sand away the thick skin and calluses. You'll find that the more you do it, the easier it becomes. Soon, you'll enjoy the addictiveness of the feeling—and the resulting smoothness.
Finish Cold
Cold showers are popular with wellness types because they come with a myriad of health benefits—there's clinical evidence that an icy shower can improve your mood and boost your immunity. But I can also tell you that they're not much fun. A solid compromise though, is ending your shower with a blast of bone-chilling water. For the last 30 seconds or so, turn the water as cold as it'll go and embrace the shock of it all. You'll get a jolt of energy and the cold rinse calms any stress the hot water may have caused to the skin or scalp.
Save
Your Towel
One you turn off the water, don't just step out dripping wet. Drag your hands down your arms and legs like a human squeegee. Do the same over your torso and down your back. It takes mere seconds, but you'll save yourself a sopping towel. (And the drier your towel, the less bacteria and smells as a result.)
And For Your Post-Shower ...
Tend to
Your Nails
After your shower, your nails are soft and much easier to cut. So take advantage of this time and trim them up when needed. If you want to make it even easier, invest in some Japanese clippers. These are made in Seki, a city known for creating Samurai swords. The blades retain their sharpness because they're forged of twice-tempered steel and honed by hand.
Japanese stainless steel nail clippers,
$17 by Green Bell
Lotion Up
Lotion Up
While your body is still damp, rub yourself down with a quality body moisturizer. I was never good at this because it made me feel sticky and slimy. But this cream, which is formulated to soothe and smooth skin, absorbs extremely fast—allowing me to get dressed immediately. Plus, it has no fragrance so it won't interfere with your cologne.
Carea cream,
$40 by Soft Services