"Too bad milk doesn't stain your teeth white" ... and more.
From sneakers to outerwear, our picks from three can't-miss sales going on this weekend.
Have you signed up
for The Daily Valet.?
You're five minutes away from being the most interesting man in the room.
A dozen of the ultimate layers to wear right now.
How to Fight Seasonal Affective Disorder
What it is, how to tell if you have it and proven tactics to beat it.
From the big dinner to the day after, here's what to pack.
From one-of-a-kind outerwear to an easy and affordable suit.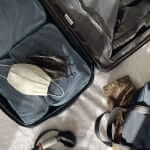 The best packing cubes for all types of travelers.