My Morning Routine
⇾ Neen Williams, Pro Skateboarder
My Morning Routine
⇾ Neen Williams,
Pro Skateboarder
The power of clean living and consistency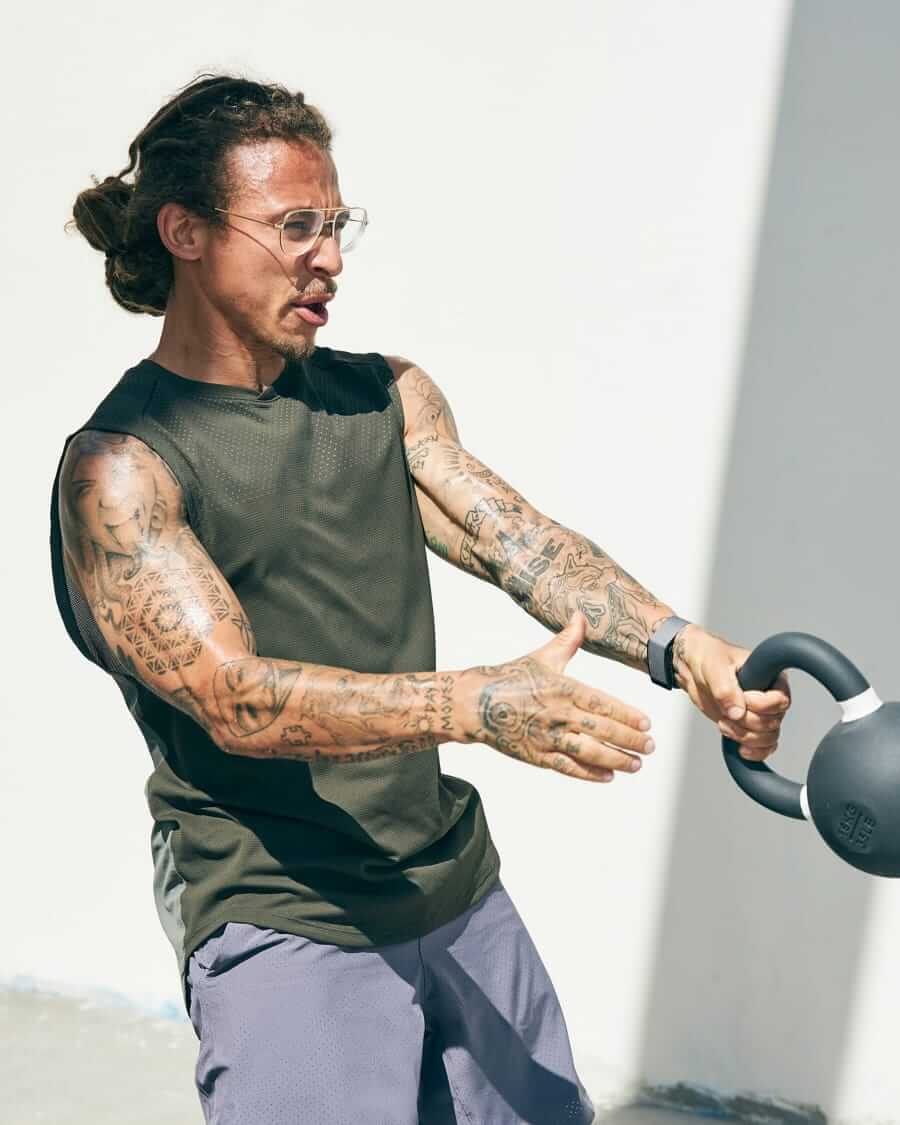 Neen Williams has been skating since he was 13 years old. After turning pro, he spent years partying all night and then sleeping in so much that it started take its toll. Knowing he couldn't skate his best and treat his body like shit, he ditched the booze and late-night burritos in order to take his health and sport more seriously. Now sober and dedicated to healthy eating and working out, the 33-year-old is making sure he remains one of the best skaters in the business. It certainly seems to be working for him. His food-centric YouTube channel has gained a mass of fans and he was recently named Lululemon's newest elite ambassador. We caught up with healthy-living skater after an early morning workout to learn more about how he makes wellness look so damn fun.
The Series
Those moments between turning off the alarm and getting into our work routine can be the most defining 60 minutes of our day. Benjamin Franklin set a day's worth of plans by 5 am and Steve Jobs asked a simple question: "If today were the last day of my life, would I want to do what I am about to do today?" Our rituals are a reflection of us. So we've ventured out to discover how some of our most influential and fruitful peers get started.
My Routine
I really try to get in at least eight hours of sleep a night.
And if I can get more, then I'm stoked! I usually wake up around six am on weekdays and seven on the weekends. I actually try to wake up 10 minutes before my alarm goes off, so I can turn it off because I can't stand the abrupt noise of an alarm.
The first thing I do is grab the tall glass of water perfectly placed on my nightstand.
I then drink the whole glass. Sit back and close my eyes for about ten minutes and meditate. Then I get out of bed and walk to the kitchen barefoot.
I set all my morning stuff up the night before so I can get through my morning smoother and less stressful.
I have two pots of water on my stove top, one for coffee and the other for oatmeal—perfectly measured out. I turn those flames on and get the water boiling. Meanwhile, I make a concoction of water, 1 tsp turmeric, a dash of black pepper and cinnamon—I call this my anti-inflammatory bomb.
I love coffee. But I'm a one-cup type of guy.
One glass in the morning to give me that initial spark is all I need. I drink my friend's brand called Strong Coffee, because it's amazing! It's packed with all types of goodness to help you get a nice clear caffeine boost without any crashes. It has coffee, collagen protein, L-theanine, MCT oil and freeze dried coconut water in it. I just add it to hot water and boom I'm good to go!
Hitting the gym helps me prepare mentally for the day ahead.
Start with a quick stretch and mobility warm-up, then toss around some weights. I call this time of day "me time". Even though I am working out and pushing myself, I am in a meditative state, getting myself prepared for the day ahead. For me, challenging yourself to complete something hard and strenuous before your day actually starts is the most beneficial and rewarding thing. When you accomplish it and sometimes push further, the rest of the day just goes by so much better.
The key to working out is consistency.
I workout in the morning, Monday to Friday. On these days, I do conventional body building, not focusing on gains but focused more on strength and conditioning. My whole purpose of working out is to be able to do the things that I love for as long as I can. Saturday and Sunday are sort of active recovery days, so I usually do kettlebell and steel mace workouts. Focusing on all muscle groups and flowing.
Over the years, I've discovered tons of remedies for combatting soreness.
The first one is drinking plenty of water, even adding some pink salt to the water to help with hydration. Second, the anti-Inflammatory bomb I drink in the morning works wonders. Potassium is good too. If you like bananas, but I prefer avocados. And perhaps my favorite ... an ice bath. Fill your bathtub up with ice and water, then take the plunge. For the first few minutes, I like to keep my hands and feet out, and then toss them in for the last minute because as soon as you put them in there it's a wrap. This will help push the lactic acid out of your muscles, making you feel less sore. Cold showers help too.
My grooming's
pretty simple, but there are a few things I swear by.
It's a mix of clean ingredients and high-performance products that are tried and true. When it comes to shaving, I only shave once every three weeks or so just to clean things up. Otherwise it's pretty natural.
Clockwise, from top left
Olive oil creamy aloe shampoo,
$6.29 by ORS
Sport mineral sunscreen,
$9.99 by 365 Everyday Value
Blu Mediterraneo Fico di Amalfi cologne,
$113 by Acqua di Parma
Charcoal whitening therapy toothbrush,
$6.99 (for two) by Oral-B
Alpha Brain supplements,
$34.95 / $29.71 by Onnit
Instant coffee mix,
$45 by Strong Coffee Co.
Pomegranate lip balm,
$3.99 by Burt's Bees
Eye+ cream,
$46 by Skin Owl
Anti-Stink deodorant,
$12 by Lululemon
When I leave for the day, I want to wear something that can keep up.
That's why my work with Lululemon's such a good fit. From the ABC pants and 5 Year basic tee to the Surge shorts, these pieces are what I feel most comfortable in whether I'm working out, stretching or skating.
NOTE: Items featured in this story are independently selected. Purchasing via our links may earn Valet. a portion of the sale, which helps fund our editorial mission.