With increasing concerns about the environment, people have begun re-evaluating every aspect of their lives. And rightfully so, considering that U.N. scientists warn that we've got just over a decade to get climate change under control. But with a problem this large, it can be hard to see where your own individual contributions can realistically add up to any noticeable change. That's why we need to work together. Ideally at our places of work—where so many of us spend much of our time.
As you may know, Valet.'s office is located in a WeWork. And through their new sustainability push (they've committed to being completely carbon neutral by 2023), we've learned a lot about being greener at the office. And perhaps more importantly, how to focus on sustainability without being the kind of righteous jerk that turns people off. "We'll be driving down energy consumption through design and operational changes," says Lindsay Baker, WeWork's head of sustainability. "Our stance is, design realistically—most people aren't going to spend time deciding where to throw a piece of trash ... it just has to be natural."
I get that. No one wants to be on the receiving end of an Al Gore-ish inconvenient truth when they're simply trying to get some coffee at the start of a workday. So we're presenting you with a handful of easy eco-wins that don't feel overly crunchy or commit you to veganism. After all, I'm pretty sure smug satisfaction omits greenhouses gasses.
Your Green Game Plan
Remember to
Power Down
Our computers tend to eat up a decent amount of energy. Look into your settings for energy-saving modes and make sure to shut your computer down when you leave for the day. Letting it sleep in "standby" will continue to draw a decent amount of power even when not in use. You could also plug your computer, desk lamp, speakers, etc. into a power strip with an on/off switch, so you can turn off your whole desktop setup all at once.
Recycle
Your Tech
Americans throw away nearly six billion pounds of electronics yearly, according to the Environmental Protection Agency. This not only pollutes our soil and water with chemicals, it wastes a lot of resources and drives the need for more mining and manufacturing. By the EPA's estimates, for every million cell phones we recycle, 35 thousand pounds of copper, 772 pounds of silver, 75 pounds of gold and 33 pounds of palladium can be recovered. What's more, recycling electronics is becoming easier than ever. Apple has a beneficial trade-in program and stores like Best Buy and Staples will take your old devices and recycle them. Your local church or school likely holds e-waste collection drives or there may be a bin to drop off old gadgets. It's often free to recycle old printer cartridges, and recycled replacements are cheaper than new ones.
Digitize
Cloud computing solutions have enabled companies to become more streamlined, efficient, and yes, green too. But even in this age of Slack and screen sharing, we tend to still do a fair amount of printing. We've all seen those silly "think before printing" banners at the bottom of emails, but there are simple ways to cut back on paper waste. First off, only print things that need to be around for a while. Review documents onscreen rather than printing them out. Send emails and direct messages instead of paper memos, letters and bulletin posts. The majority of paper printed in offices gets used once and then quickly trashed or recycled. Additionally, software like Greenprint helps track print consumption and eliminates unnecessary or blank pages from documents before printing.
Get a Plant (or Two)
We're all for introducing some indoor greenery simply because it looks good. Bring the outside in and beautify the space in which you spend so much time. But your new desk plants are uplifting in so many more ways than that. Plants will boost oxygen levels and remove harmful stuff (like carbon dioxide and such chemicals as formaldehyde) from the air. Wondering which type of plants will flourish in your office environment? This infographic can help you select the ideal green for your space. What's more, you can easily order them online from places like Bloomscape (a fellow WeWork member) and have them delivered to your desk.
Offset
Your Travel
Some jobs require a lot of back-and-forth flying, which can induce some pangs of carbon guilt. Rightfully so, as flying often makes up the largest portion of our individual carbon footprint. That's because planes burn a lot of jet fuel, releasing greenhouse gases such as carbon dioxide into the atmosphere and oceans. When flying less isn't an option, consider buying carbon offsets—where you pay to take planet-warming carbon dioxide out of the atmosphere in exchange for the greenhouse gases you contributed. You can buy offsets through select airlines, or via organizations like CarbonFund, which thankfully do all the calculating for you. Most flights will cost you between $10 - $15, and will be invested in such projects as planting trees (to pull carbon out of the air), actual carbon capture or supporting green energy initiatives. And if you bring this up to your company, you might even get them to cover the costs.
Smarter Water Bottles
Buying bottles of overpriced water is wasteful on so many levels. Save time, money and the planet by utilizing a reusable bottle. There are so many great options on the market now. Our WeWork—which phased out disposable plastic cups and utensils last year—is always stocked with a decanter of fruit water, so I fill up a glass carafe that keeps me hydrated for the better part of the workday.
Cooler Carriers
for Your Coffee
Choosing paper cups for your brew over plastic or styrofoam might seems more environmentally friendly, but those paper cups are lined with a plastic known as polyethylene. It makes the cups liquid-proof but nearly impossible to recycle. Invest in a permanent, insulated and spill-proof mug. Your coffee will no doubt stay hotter (or colder) and taste better in an insulated steel or ceramic vessel rather than plain old paper or plastic.
A Better Brown Bag
Bringing your lunch is already a smart move. It's a guaranteed way to eat healthier and for less money. But it's also a way to be more eco-conscious at lunchtime. Getting delivery or takeout almost always ends with a pile of packaging waste. Just make sure you're bringing that lunch in reusable containers, which are not only more environmentally friendly but making packing and reheating easier. Except for these cool stainless steel containers—don't microwave those. They're for the sandwich and veggies crowd.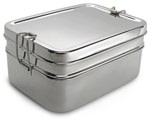 Stainless steel 3-in-1 box,
$29.99 by EcoLunchbox
Glass storage containers,
$39.95 (for a set of six) by Pyrex
Stackable bento box,
$19.93 by Tabkoe
Spread
the Word
Good habits are contagious. After I started using my water carafe, similar glass bottles showed up on a few of my colleagues desks. According to WeWork, 40% of members who used to drive by themselves to work have switched to using more sustainable forms of transit since joining WeWork. So don't be afraid to ask a colleague about commuting together or ask the office manager for a bike rack or fair trade coffee.
Greener Team Building
More and more companies are using eco-friendly opportunities for team-building events that not only inspire and engage the staff, but connect businesses with their community. One of our fellow Miami-based WeWork members, Debris Free Oceans, regularly holds beach clean-ups along with scuba and paddle board clean-up events that are great for camaraderie and collaboration.