I Finally Learned to Make Better Salads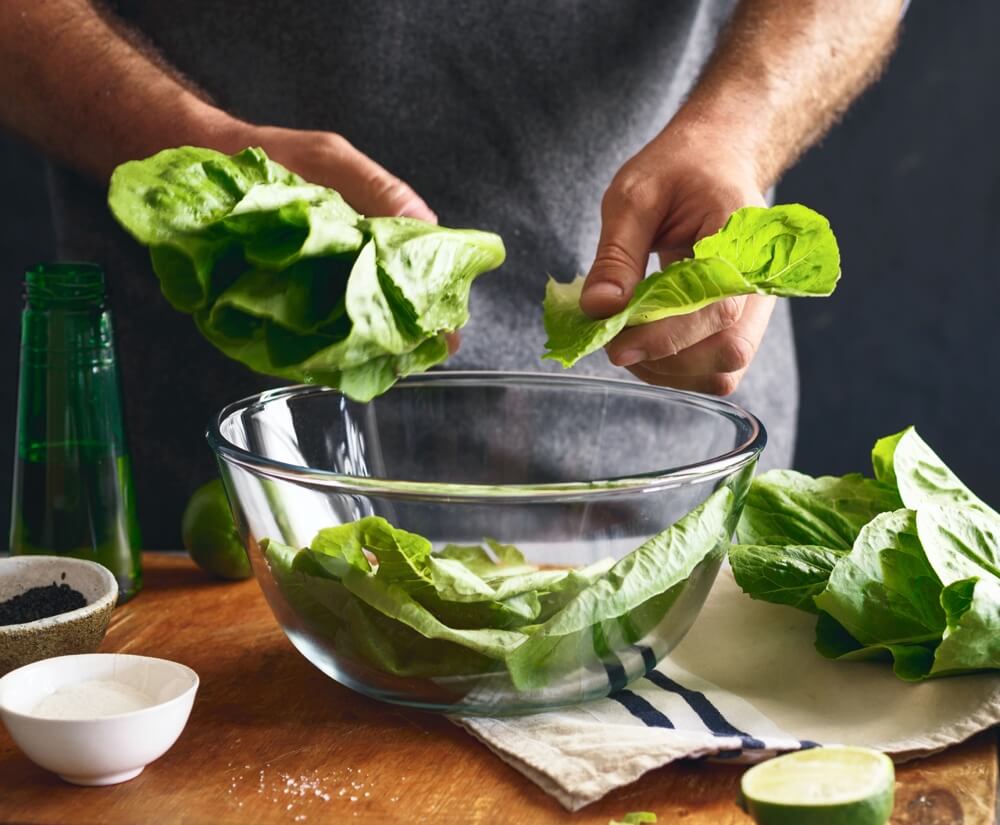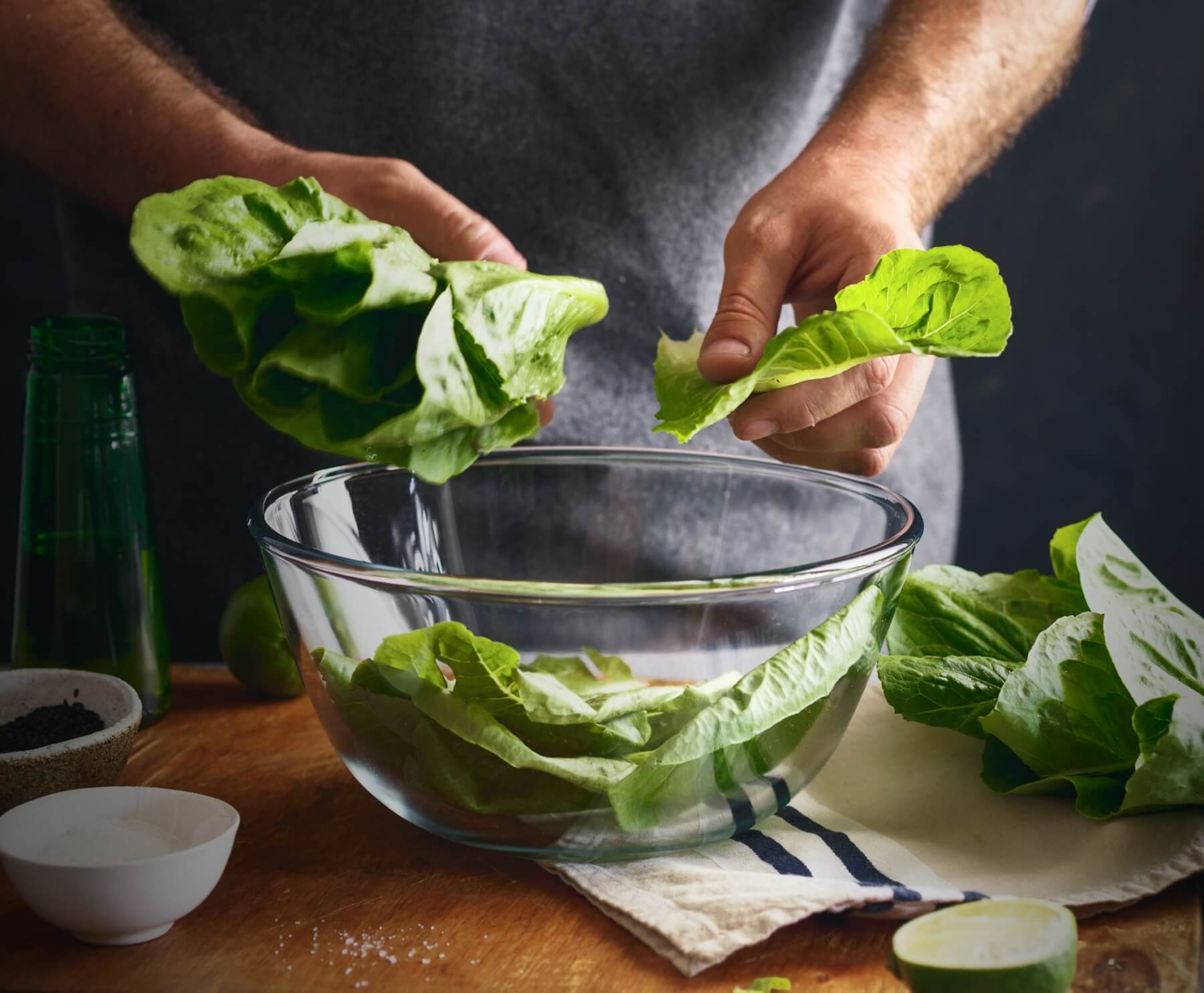 I Finally
Learned to Make
Better Salads
How to make filling salads
that satisfy a man's hunger
Summertime is for salads, right? It's too damn hot to worry about cooking. And there are so many great fresh vegetables available at the store or farmer's market—flavorful peppers, crisp snap peas and ripe, juicy corn. Why not put them to good use? That was my thinking anyway. I like to eat healthy, but too many times, I was disappointed with a homemade salad. It was a whole lot of work, chopping up all the lettuce and veggies, and by the end of the meal, I never felt all that satisfied. I was either still hungry or the taste just wasn't like the really good salads I enjoyed when eating out.
But I'm no quitter. So after a few weeks of earnest experimenting, I've nailed the hungry man's salad game plan. It's not difficult. It's not expensive. But it is guaranteed to satisfy. That's because they're flavorful, filled with texture and packed with enough protein to keep you full and feed your muscles. Herewith, a five step plan to build your own recipes to suit your tastes. What's more, when you make a big batch, you've got at least two lunches for the week in addition to dinner. Scroll to the bottom of this article to learn why that's so important.
Pick a
quality protein
This is important because, without a solid shot of protein, that salad will definitely leave you feeling hungry in about an hour. Carrots and some kale are great but they don't exactly make a satisfying meal, nor will they help feed the muscles you're working for at the gym. And while a store-bought rotisserie chicken will definitely do the job, there are all sorts of high-protein options you can incorporate to keep your salads interesting. Grill up a skirt steak medium rare and slice it into thin strips. Even after refrigerating it, the meat still has a tender satisfying chew to it. Shrimp, sautéed with garlic and olive oil, is another favorite of mine. Hardboiled eggs are an easy standby. Other options you can keep in your pantry are quality canned fish (think tuna, sockeye salmon, smoked mackerel or wild sardines). And one Paleo-crazed trainer recommended using dried meat sticks—they're more tender and slice up easier than standard jerky.
Shop the
freezer aisle
Of course, when it comes to making salads, you'll be chopping up a decent amount of fresh vegetables. But don't forget about the freezer aisle when you're at the grocery store. I pick up fire roasted corn, shelled edamame, green peas or black eyed peas to have on hand. You can defrost them in the microwave in less than a minute. And when I make a salad to take to the office the next day, I sprinkle them in frozen and they're defrosted by the time I'm ready to eat. You can also pick up fruits like berries and pineapple if you like a little something sweet mixed in.
Consider going
lettuce-free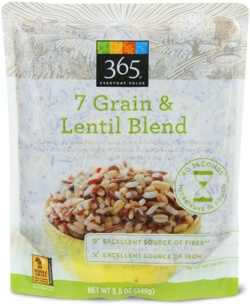 Pre-cooked grain and lentil blend, $2.99 by 365 Everyday Value
If you want a heartier salad, I'd suggest forgoing the standard lettuce. If you want greens, go for something a little heartier like kale, napa cabbage or collard greens. Or use something else entirely for your base. Raw veggie noodles are a nice option. So is steamed corn or readymade lentils. Or try an ancient grain like farro, quinoa or freekeh, for example. Freekeh is basically quinoa on steroids. Not only does it have more protein and twice as much fiber as quinoa, it delivers the same vision-protecting antioxidant duo lutein and zeaxanthin, typically only found in leafy greens.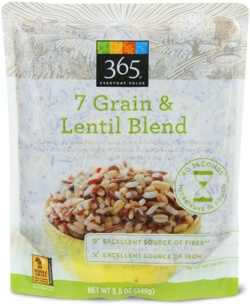 Pre-cooked grain and lentil blend,
$2.99 by 365 Everyday Value
Rethink
your dressing
A rich, calorie-dense dressing is where you can derail much of the good work of eating a salad as your meal. Another mistake? Reaching for fat-free dressing (which are usually higher in sugar). In reality, our bodies need fat—especially with salads, because healthy fats help the body absorb the vitamins from the vegetables. You're better off whipping up your own dressing by whisking together your favorite oil (olive oil, avocado oil) with some vinegar or citrus juice and a hit of honey or maple syrup for sweetness. If you prefer something creamier, Bolthouse Farms makes really delicious dressings made from yogurt without any artificial flavors or preservatives. Honestly, their ranch is tastier than Hidden Valley and clocks in at ⅓ of the calories.
Don't forget
the crunch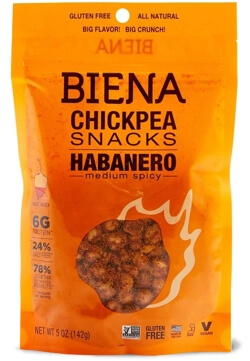 Habanero chickpea snacks, $3.69 by Biena
This is where you really separate the delicious, satisfying salads you have in a restaurant to the sad home salad most of us end up with. Chopped nuts or seeds are my go-to. They provide a healthy dose of proteins and fats, and are a great source of B vitamins, Or crispy roasted chickpeas—I really like Biena's sweet and spicy habanero chickpea—which are a healthier, more filling alternative to bacon bits. Breadcrumbs, toasted with butter in a pan is a partially indulgent topper, if you want to go the extra mile.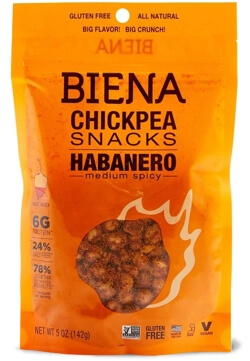 Habanero chickpea snacks,
$3.69 by Biena
Want to crush it at work? Bring a big salad for lunch. Harvard researchers found that men who ate the most vegetables (six servings a day) were 34 percent less likely to develop impaired cognitive function than those who ate the least (two servings).
NOTE: Items featured in this story are independently selected by the editorial team. Purchasing via our links may earn Valet. a portion of the sale, which helps fund our editorial mission.