Style Move
Loafers With
Grey Socks
Style Move
Loafers With Grey Socks
A killer combination for the colder months
Just because we're heading into winter doesn't mean you need to give up your loafers. After all, it's fair to say that demand for loafers is approaching an all-time high. There's never been more options and styles at our disposal. We're not going to let a little wind chill ruin the fun. Besides, while going sockless in loafers remains a timeless look, more and more these days, stylish guys are pulling on socks of all shades with the slip-ons.
With this in mind, we've found a combination that goes together like chocolate and peanut butter. Slip into a pair of substantial loafers—we're talking about ones cut from hardy textured leathers and grounded with grippy boot-like lug soles. Then pair them with socks in the same shades of a moody winter sky. Trust us, the combo just hits different. The shade of loafer doesn't mater—black, brown, burgundy, or even grey—when worn with some grey socks, the look is sophisticated yet relaxed. Plus, it works with almost any wardrobe mash-up you wear. Jeans and sweatshirt, fatigue pants and a denim shirt, pinstripe trousers and a cashmere sweater? All good. From classic penny loafers to Belgian slipper styles, we've pulled together a few of our favorite pairings to help inspire you.
The Pairings
1
With a boot-like lug sole, this loafer is as sturdy as it is handsome. American Trench's lambswool socks are cozy, comfortable and not too long.
Reims loafer,
$500 by Paraboot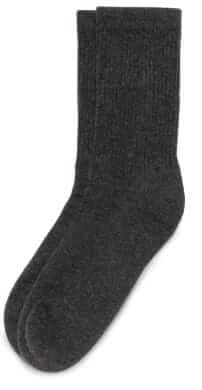 Supermerino socks,
$28 by American Trench
2
The Classic Bass Weejun gets a shot of '90s cool with a chunkier sole and a pair of luxe cashmere socks that slouch just right, but never droop.
Larson lug sole Weejuns,
$165 by G.H. Bass
Cashmere socks,
$42 by iMongol
3
These are cut from nubuck, which unlike suede, is made from the outside of a hide, which means it's more durable. Pair them with some chunky Japanese socks made on old-school knitting machines.
Le Club nubuck loafer,
$390 by Vinny's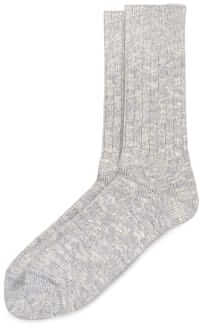 Low gauge slub socks,
$25 by Rototo
4
A croc-embossed leather and classic horsebit add some refinement, but the Vibram lug sole adds toughness. Wear them with some equally textured merino socks.
Mason horsebit loafer,
$375 by Blackstock & Weber
Mélange merino terry socks,
$25 by Howlin'
5
These splashy color-block loafers, complete with a comfortable EVA rubber lug sole, call for some chunky slub camp socks.
Adler penny loafer,
$135 by Marc Nolan
Camp socks,
$29 (for three-pack) by Abercrombie & Fitch
6
The daintiest of the group, these aren't as ready for wet or snowy sidewalks, but they are a great choice for when you want to turn up the style. Pair them with some tonal, textured socks.
Grigio suede loafer,
$395 by Del Toro
Cotton piqué socks,
$40 by Mr P.
Winterize
Your Footwear
You can't expect them to stand up to the winter's rage if you don't treat 'em right. Here are some simple suggestions to protect your kicks and keep your feet dry, warm and stain-free during the brutal season ahead.