The All-American Brands
Worth Your Money
The best made-in-the-USA brands making menswear today
The United States has a long storied history when it comes to what we wear. We were the first to make sneakers, jeans and a handful of hats, along with many other staples of a man's wardrobe. And while some might argue that little is still made in America, the reality is that there are a good many brands, both old and new, producing high quality clothing, shoes and accessories here in the States. And yes, it may cost more than the imported stuff, but that's because you're buying ethically-made pieces that support American manufacturing jobs. And what's more, if you ever have a problem with your purchase, these companies stand behind their products and will make it right for you.
Modern
Est. 2011 in New York, NY
Cleverly designed vintage-inspired clothing for the urban outdoors by designer Shinya Hasegawa—who previously worked and trained under the acclaimed Daiki Suzuki for the Woolrich Woolen Mills collection.
Est. 2009 in Brooklyn, NY
Established by brothers Emil and Sandy Corsillo, The Hill-Side started out making ties and has grown into a full collection of handsome clothing made in both the United States and Japan, using their own well-crafted fabrics.
Est. 2013 in Los Angeles, CA
Erik Schnakenberg and Sasha Koehn began Buck Mason in an effort to craft clothing that would be timeless yet cool. They're committed to crafting clothing that outlives trends, weathers use and wears true-to-character.
Est. 2010 in San Francisco, CA
With storefronts in San Francisco and Berkeley, this outdoorsy brand makes clothes that are rugged, adaptable and good looking. From reversible coats and lined vests to overdyed chinos and knit caps.
Est. 2011 in San Francisco, CA
Rugged in construction, but refined in their selection of materials, Flint and Tinder came onto the scene with their unprecedented 10-year-hoodie, breaking Kickstarter records. They followed it up by reworking familiar basics into perfectly tailored staples.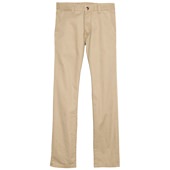 Est. 2009 in New York, NY
Founded by a former Ralph Lauren designer, the brand's trademark are pants that walk the line between khakis and jeans, which are then put through a vintage wash to add additional softness and fading.
Est. 2008 in San Francisco, CA
A quintessential California brand, they produce well made clothes that are as good looking and well tailored as they are rugged, comfortable and relaxed. Each collection is limited in number and manufactured in California.
Est. 2009 in New York, NY
Hart is known for his modern take on dapper, gentlemanly style. Dedicated to supporting New York City's disappearing Garment District, Hart produces much of his clothing and accessories in Manhattan and Brooklyn.
Est. 2008 in Ashland, PA
This new brand pay tribute to the Gitman Brothers heritage by selecting archival designs and fabrics from old line books, tweaking them just enough to make them work for today and crafting them in Ashland, Pennsylvania.
Est. 2006 in New York, NY
This brand, known for their classic and comfortable clothing manufactures everything in the United States. They dye and finish every garments in California, known for its stringent environmental protection rules.