The All-American Brands
Worth Your Money
The United States has a long storied history when it comes to what we wear. We were the first to make sneakers, jeans and a handful of hats, along with many other staples of a man's wardrobe. And while some might argue that little is still made in America, the reality is that there are a good many brands, both old and new, producing high quality clothing, shoes and accessories here in the States. And yes, it may cost more than the imported stuff, but that's because you're buying ethically-made pieces that support American manufacturing jobs. And what's more, if you ever have a problem with your purchase, these companies stand behind their products and will make it right for you.
Classic
Est. 1905 From: Red Wing, MN
First designed to tackle the harsh conditions of logging and mining, today the durable yet comfortable boots appeal to factory workers and office workers alike.
Est. 1922 From: Port Washington, WI
Their name is synonymous with classically handsome and sturdy dress shoes. And thanks to their recrafting service, the shoes can easily last you a lifetime.
Est. 1932 From: Portland, OR
This Pacific Northwest brand built a solid reputation by making boots that stand the test of time while withstanding the rigors of mountain paths, streams, snow and dirt.
Est. 1932 From: Cincinnati, OH
This once defunct brand has recently been revived and proudly works to reproduce garments from Velva Sheen's heyday, like these soft tubular knit (no side seam) T-shirts.
Est. 1913 From: New York, NY
Schott was the first outerwear manufacturer to use a zipper on their jackets. Then Marlon Brando turned their signature Perfecto motorcycle jacket into the lasting icon it is today.
Est. 1883 From: Houston, TX
For more than a century, the Hamilton family has been crafting bespoke shirts for clients. Every shirt is still cut by hand and sewn in their Houston workshop.
Est. 1916 From: Chicago, IL
The only manufacturer in America that tailors custom garments entirely by hand, Oxxford Clothes has been committed to handcrafting suits that are as comfortable as they are sophisticated.
Est. 1909 From: New Orleans, LA
This dapper brand specializes in tailored clothing that can take the Southern heat. You've seen Haspel on every true gentleman for more than 100 years, from Gregory Peck in To Kill A Mockingbird, to President Calvin Coolidge.
Est. 1897 From: Seattle, WA
C.C. Filson outfitted prospectors headed for the Gold Rush with goods strong enough to contend with the toughest spots on Earth. The mission continues for those in need of hardwearing gear.
Est. 1933 From: Fall River, MA
The New England Shirt Co. factory is the oldest operating ready-to-wear shirt manufacturer in America. They use traditional, hand-sewn construction and techniques to create honest, timeless clothing.
Est. 1920 From: Portland, OR
This is the kid brother brand of the Dehen Knitting Company, which has been making heavy duty varsity jackets, sweaters and other uniforms for almost a century.
Est. 1853 From: San Francisco, CA
The brand's archival line, Levi's Vintage Clothing, faithfully recreates classic Levi's models stitch-for-stitch, with denim from the famous Cone Mills in North Carolina.
Est. 1882 From: Duluth, MN
What started out as a small leather goods store in Duluth by Camille Poirier grew into an iconic outfitter after he filed the patent for the brand's now signature scout pack.
Est. 1906 From: Boston, MA
Once a maker of arch supports, in 1938 they created their first pair of running shoes. While don't make all their sneakers in the US, they're the only major shoe company making athletic footwear here with their "Made in the USA" line.
Est. 1912 From: Freeport, ME
Leon Leonwood Bean started one of the most successful outdoor outfitters by creating the innovative Maine Hunting Shoe (known as the duck boot) in the basement of his brother's apparel shop.
Modern
Est. 2011 From: New York, NY
Cleverly designed vintage-inspired clothing for the urban outdoors by designer Shinya Hasegawa—who previously worked and trained under the acclaimed Daiki Suzuki for the Woolrich Woolen Mills collection.
Est. 2009 From: Brooklyn, NY
Established by brothers Emil and Sandy Corsillo, The Hill-Side started out making ties and has grown into a full collection of handsome clothing made in both the United States and Japan, using their own well-crafted fabrics.
Est. 2013 From: Los Angeles, CA
Erik Schnakenberg and Sasha Koehn began Buck Mason in an effort to craft clothing that would be timeless yet cool. They're committed to crafting clothing that outlives trends, weathers use and wears true-to-character.
Est. 2010 From: San Francisco, CA
With storefronts in San Francisco and Berkeley, this outdoorsy brand makes clothes that are rugged, adaptable and good looking. From reversible coats and lined vests to overdyed chinos and knit caps.
Est. 1989 From: Los Angeles, CA
This well-known vertically integrated company is one of the largest apparel manufacturers in North America. They've been at it for decades now, but still produce reliable and effortless basics.
Est. 2011 From: San Francisco, CA
Rugged in construction, but refined in their selection of materials, Flint and Tinder came onto the scene with their unprecedented 10-year-hoodie, breaking Kickstarter records. They followed it up by reworking familiar basics into perfectly tailored staples.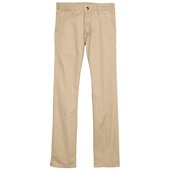 Est. 2009 From: New York, NY
Founded by a former Ralph Lauren designer, the brand's trademark are pants that walk the line between khakis and jeans, which are then put through a vintage wash to add additional softness and fading.
Est. 2009 From: Kansas City, MO
Drawing upon the roots of his hometown, Matt Baldwin set out to create inspired denim and apparel that maintains its history and casual American foundation using impeccable craftsmanship and design.
Est. 2004 From: Los Angeles, CA
Brothers Raan and Shea Parton founded Apolis on a model of "advocacy through industry." Along with their commitment to global advocacy, they also understand the importance of sourcing and manufacturing locally.
Est. 2008 From: San Francisco, CA
A quintessential California brand, they produce well made clothes that are as good looking and well tailored as they are rugged, comfortable and relaxed. Each collection is limited in number and manufactured in California.