Your Thanksgiving Wine Cheat Sheet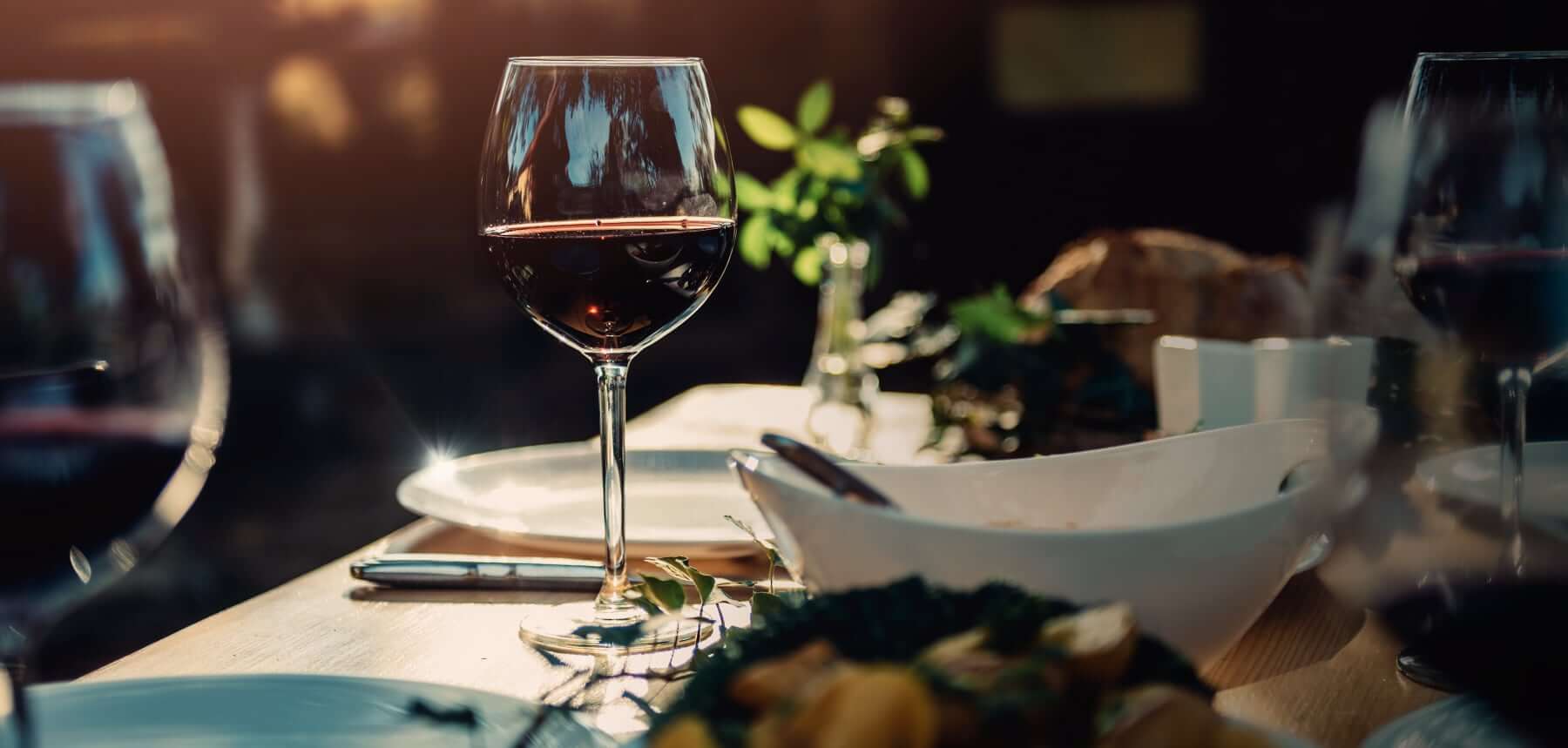 Holiday Survival Guide
Your Thanksgiving Wine Cheat Sheet
What to drink, how to serve it and the best bottles to bring your host
Thanksgiving is great. It's an entire day devoted to gratitude, day-drinking and judgement-free second helpings of dinner. But this glorious, gluttonous occasion can come with some stress, especially when it comes to wine. Whether you're hosting or merely showing up with the requisite bottle in hand, you want to make sure you've chosen wisely. Even if you love (and know) wine, pairing bottles for a Thanksgiving feast can be a real pain.
You want something tasty that can handle everything from cranberry sauce and sweet potatoes to the deviled eggs someone brought as an appetizer. But you're also looking for wines everyone can start drinking early and keep drinking late. Because keeping everyone lubricated but not drunk is the key to surviving any family issues or political disagreements that may arise. In an effort to make sure you're properly prepared, we brought the most common questions to several experts—from a Sonoma winemaker and a respected sommelier to a Hollywood actor who recently got into the wine business. Here's what they had to say.
Thanksgiving
Wine Pairings
What are the
fool-proof bottles
to bring?
"You need both red and white wines at Thanksgiving in my opinion—not just for your guests' personal preferences but for the diversity of food," says Stephen Amell, the actor who co-founded the social media-driven wine club Nocking Point. "An Oregon Pinot Noir (like Origins) is a great fit for this type of meal, pairing well with both the light and dark turkey meat, as well as roasted vegetables and even the cranberry sauce." Susan Lueker, head of winemaking for SIMI winery in Sonoma agrees. "I'd go with a Pinot Noir—super versatile with a wide variety of dishes and it's a softer red, so everyone is happy." She also likes rosé or Chardonnay, especially in warmer climates or for those who don't drink red wine. "They're both supremely food-friendly wines."
Their Suggestions
There's a lot of day drinking. Should you switch up your wine throughout the day?
Her Suggestion
Nino Franco Rustico Prosecco, $19.99
"Thanksgiving can be a marathon—for the hosts and the guests," says Los Angeles-based sommelier Katie Owen. "Start out with a sparkling wine ... it's lower in alcohol content, sets the tone of the day as a celebration and pairs well with any appetizer." With the main dishes, she suggests switching it up with light to medium white wines or a more full-bodied, hearty red wine.
Her Suggestion
Nino Franco Rustico Prosecco, $19.99
Can you get away with less expensive bottles if you're on a budget?
His Suggestion

Spoken Barrel Meritage, $18.99
"Absolutely—you don't need to spend a fortune on special occasion wines," says Seattle chef and food stylist Nathan Carrabba. "Particularly when you're serving a larger group for a long day to evening stretch." He suggests looking for something in the middle of the road that delivers exceptional taste. "I typically shoot for the $15-20 range as I think this is the pocket that marries quality with affordability," he says. "But these days, you can also find great wines under $15."
His Suggestion

Spoken Barrel Meritage, $18.99
How much wine
do you need?
All of our experts provided various formulas for calculating the amount of glasses per guest for each hour of entertaining. But in the end, the TLDR answer is this: you should have at least one bottle per person in attendance. It's always better to have more than less, right? You don't have to open it, and you might as well stock up at the beginning of this season of entertaining.
Do you pour glasses for your guests or just place the bottles out?
"For a Thanksgiving pre-dinner aperitif or when offering someone their first glass of the day, I like to pour it for them," says Carrabba. "Then during the meal, I place bottles out on the table—or an easily accessible serving area—for people to pour and refill at their leisure. It makes everyone feel more comfortable and at-home versus a formal pour, particularly on Thanksgiving."
How do you
maintain the best temperatures for various wines?
"We all know fridge space can be at a premium on holidays, or anytime when you're hosting," says Owen. She suggests a big ice bucket for whites and sparkling, and adding a little water to the ice to get the bottles to chill down faster. Reds can be served at room temperature (and dunked in the ice for a few minutes to cool down if the room's too hot). "Fuller whites like Chardonnay can actually have enhanced texture and aromatics once they calibrate to room temperature," she says. "So don't be afraid to leave those out on the table once they've been served."
The Perfect Glass?
Our go-to glasses are the nearly unbreakable Forte collection from Schott Zweisel. They're the perfect size and shape for both reds and whites and can safely be washed in the dishwasher. Plus, you can order a set from Amazon (and have it delivered with Prime in under 48 hours).
$59.95 for a set of six,
by Schott Zweisel