The holidays with family and friends are full of good times, indulgent food, gifts and plenty of boozy drinks. And we could all use a break after what's felt like a long, wild year. But before you get to the good stuff, there's still one hurdle that most of us have to tackle: actually getting to wherever "home" is located. And no matter how often you travel, these holiday journeys can take a lot out of you. Here's how to show up looking (and feeling) great.
Breeze Through Security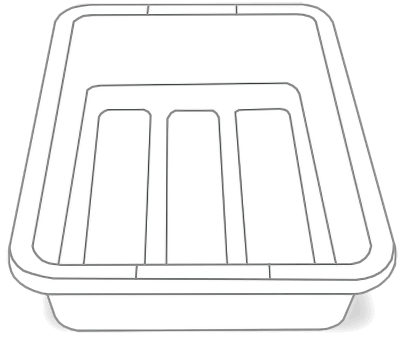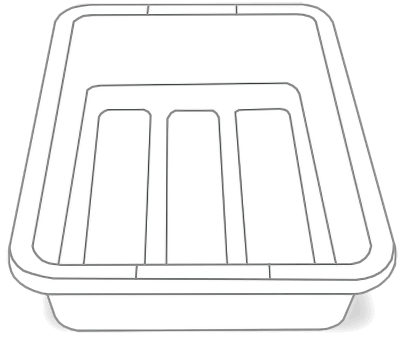 The key is eliminating time at the X-ray machine. Before you get into line, stash your phone, keys, watch and belt in a plastic bag in your carry-on (or in an exterior pocket). After showing your ID, place it back in your wallet and put it in the bag as well. Then place your bag on the belt first, followed by your shoes, toiletries and computer. Your bag will come out first—making it easier to refill on the other side.
Give
Yourself the Gift of Space (and Time)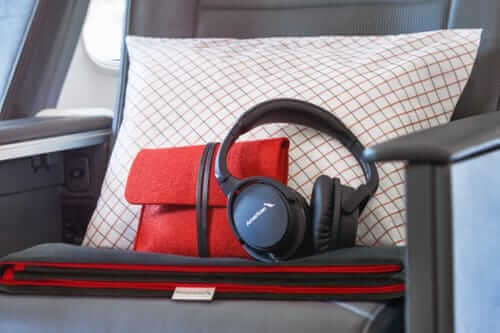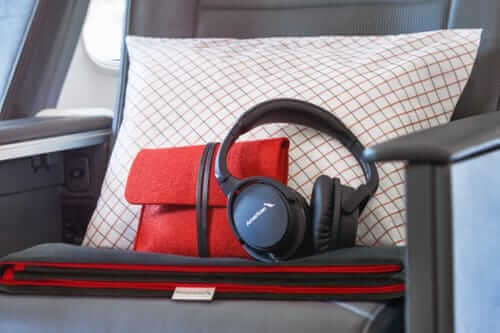 Your holiday travel schedule is often hectic and usually means you're flying at the worst possible times, so treat yourself in order to make the process a little less hellish. Upgrade your ticket to "premium economy" or "comfort plus," available on most major carriers. These are often the last tickets to go, so there's likely seats still available. For a nominal fee, you get more legroom and perks like dedicated overhead bin space, early boarding and with some carriers, priority security access (no waiting in lines!) and free alcohol (two drinks and this just paid for itself). Trust us, you'll arrive feeling so much better.
A Smarter Way to Pack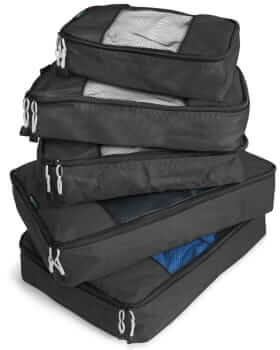 Five-piece
packing cube set,
$22.95 by TravelWise
The best way to pack as much as possible while keeping your suitcase organized, these lightweight nylon cubes will help you compress bulkier items. Efficiently roll up puffy jackets, thick sweaters or pants and tuck them into a compact cube. Use each cube for a different clothing type (sweaters, underwear, pants) and peek through the mesh top to quickly identify what's in each bag.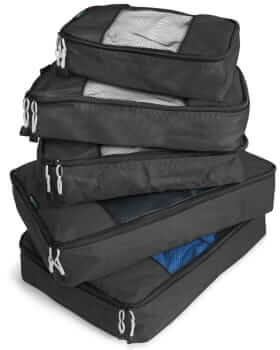 Five-piece packing cube set,
$22.95 by TravelWise
Ship
(Don't Pack) Your Gifts
While the TSA doesn't technically prohibit wrapped gifts, they do warn that "if your wrapped gift triggers an alarm, the gift might need to be unwrapped for TSA officers to resolve the alarm." For this reason and to save you from having to lug a bunch of presents around for the better part of a day, we suggest shipping your gifts ahead of your arrival. This will allow you to wrap all your gifts at home and then simply unpack them at your final destination.
Save a Day
for Yourself
Even for those lucky enough to get along swimmingly with family, a holiday visit can be exhausting and draining. Make sure you get a day to decompress. Before you head back to the office, schedule a day at home to stock up your fridge, catch up on laundry, hit the gym (or maybe more realistically, binge your favorite show) or do absolutely nothing at all. You'll feel much more rested, recharged and ready for the New Year than if you jumped right back into work.
Winter Dopp Kit Staples
Add these to your standard grooming kit to look great the whole trip.
NOTE: Items featured in this story are independently selected by the editorial team. Purchasing via our links may earn Valet. a portion of the sale, which helps fund our editorial mission.