Outfit Your Bedroom
for Ultimate Sleep
A six-step plan on getting a better night's rest
Chances are, your sleep could be improved. How do we know? Because we all need more sleep. And in case you haven't heard, sleep deprivation leads to some pretty serious problems. Whether you find yourself having trouble getting to bed or simply wake up feeling run down and tired, it's time to outfit your bedroom to maximize your results. The sleep industry is booming these days and there are some outstanding products designed to soothe you, along with old standby methods and tricks to help your body and mind relax more naturally. We sought the advice of sleep experts Dr. Rachel Salas and Dr. Charlene Gamaldo from John Hopkins School of Medicine for a few tips and recommendations that no serious sleeper should be without.
Proper
Lighting
According to Dr. Gamaldo, our bodies take about three hours to wind down before sleep. And while the research on blue light's effect on our sleep is now being questioned, the doctors agree that at the very least, you should unplug an hour before bedtime simply to help calm your mind. They suggest moving the TV and other electronics to another room. We suggest using the screen-free time to read. Flank your bed with some handsome sconces for easy reading light and use a specialty bulb like Brilli's "wind down" LED bulb which simulates the soft glow of natural light in the late afternoon and evening (minus the questionable blue light).
Leap wall sconce,
$69 by Article
Wind down 60w lightbulb,
$40 (for 4-pack) by Brilli
Clear Away
Clutter
Even if you don't mind a slightly messy room, the clutter can subconsciously stress you out because it's a visual reminder that there are things that need to be done. "Move those dirty clothes to the closet, and make the bed every morning," says Dr. Salas. "Research has shown that people who do may sleep better at night."
Go Heavy on
the Linens
You've likely been hearing more about weighted blankets lately. And that's because those who try them generally start singing their praises. Scientifically speaking, these blankets use the power of "proprioceptive input" (more commonly known as "deep touch pressure stimulation"), a therapeutic method that stimulates pressure points on the body linked to improved sleep and mood. Being touched in all the right places actually increases serotonin and melatonin levels and decreases the amount of stress hormone cortisol being released. This instantly promotes more restful sleep—all without ever popping a pill. One recent convert called it "like Advil PM for your whole body."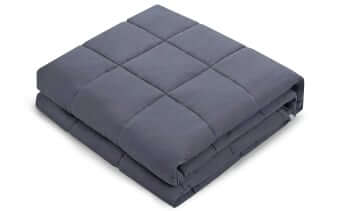 Cooling weighted blanket,
$139.99 / 129.99 by HomeSmart
Cooling, breathable weighted blanket,
$69.90 by ZonLi
Tip: For optimal results, the blanket should be around 10% of your body weight. Which is why most come in a range from 15 to 30 pounds.
Dark = Calm
Both doctors recommend black-out curtains or room-darkening shades to help filter out external light. The darker the room, the more restful your sleep. You could also consider painting your bedroom walls a deeper shade to create a more relaxing, cocoon-like environment. The bonus? This also gives the room a little more romantic vibe as well. Sherwin-Williams recently named their color "Naval", a slightly oversaturated true navy, the "2020 Color Of The Year."

Down pipe,
by Farrow & Ball

Naval,
by Sherwin-Williams

Nocturnal green,
by Valspar
Grey silk blackout curtains,
$129.95 at Crate & Barrel
Opt for an
Analog Alarm
Wideboy alarm clock,
$49 by Newgate
If you're keeping your phone out of your bedroom, that means you won't be using it for your alarm anymore. The good news? A classic alarm clock does the job reliably and also adds a nice shot of style to your nightstand.
A Discreet
Sound Machine
Dohm noise-cancelling machine,
$44.95 by Marpac
Good sleep, the doctors agree, is uninterrupted sleep. Block out disruptive noises with the gold standard in white noise machines for more than half a century. This machine isn't a speaker pumping out recordings, it's an acoustic machine with a unique asymmetrical fan and specially-built housing that creates the soothing sound of rushing air without the disturbance of actual moving air. The gentle shushing is the perfect background noise for sleep. It drowns out irritating and disruptive noises, but it's so natural you won't even notice it once it's been on for a while. The adjustable design allows for a fully customizable tone and volume control for a personalized sound environment.
How much sleep
do you need?
The amount each person requires varies, depending on your age and activity level, but the National Sleep Foundation has a solid recommendation of seven to nine hours a night.