Shorts Guaranteed
to Keep Things Casually Cool
Shorts Guaranteed to Keep Things Casually Cool
It's not too late to snag the perfect pair
Sun rays, lazy days and a down-for-whatever attitude ... Summer 2021 is holding strong, and your shorts game should be, too. Heavy jeans and work pants can wait until fall—right now, take the opportunity to let the legs breathe, free and uncovered like they should be.
Much like some of our favorite suits right now, the consensus is the more relaxed the short, the better. This doesn't have to mean messy or frumpy—below the knee cargo shorts need not apply! The best casual shorts of the season are effortlessly cool, sitting around the mid-thigh (or higher, if you're adventurous) for unimpeded movement. Comfortably roomy without being excessively large, summer-ready pairs shouldn't have to sacrifice support for style. Drawstrings are always a plus, as are extra pockets; after all, don't you need someplace to store all your every day carries? Beyond reinforcing relaxed fits, summer has taught us that some rules are meant to be broken. Don't be afraid to try pairing your chillest shorts with a dressier linen shirt, or even some loafers. Browse our selections of the best pairs of casual shorts for optimal summer socializing below.
Best Relaxed Shorts
for Men in 2021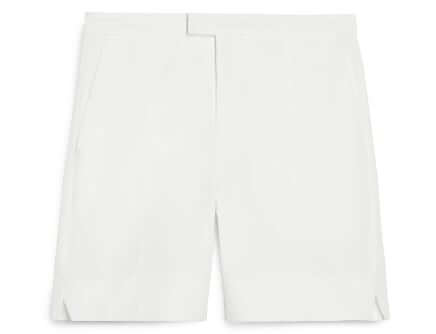 Tennis short,
$175 by Jacques
Cut-off sweatshort,
$138 / $79 by Todd Snyder + Champion
Chino short,
$29.90 by UNIQLO
Pincord camp short,
$148 / $103.60 by Corridor
Speed nylon track short,
$88 by Only NY
Recycled cotton lounge short,
$29 by Urban Outfitters
Trackhouse short,
$78 by Tracksmith
The Traverse short,
$98 by Taylor Stitch
Aeroready Warrior short,
$45 by adidas
Sunday short,
$58 by Outdoor Voices
Broken-in oxford lounge short,
$49.50 by J.Crew
Foamers short,
$188 by Noon Goons
Relaxed all-day pull-on short,
$59 by Abercrombie & Fitch
ACG cargo short,
$105 by Nike
Bolt short,
$68 by FourLaps
Sportswear reissue woven short,
$70 by Nike
Relaxed fit pleated chino short,
$125 / $89.99 by Polo Ralph Lauren
French terry tie-dye short,
$44.95 / $26.97 by Gap
Double pleat short,
$228 by NOAH
Fatigue short,
$110 by General Admission
To Liner or
Not to Liner
Ah, the age-old quandary of the liner. Internal meshing can be a dealbreaker that cuts both ways, so take the time to check a pair's features before pulling the trigger. Looking for shorts that will help you be comfy on the court or ready to run? Opt for a lined pair of athletic bottoms. Looking to lounge all day? Steer clear and stick to traditionally linerless sweatshorts or chinos.