3 Ways to Wear
the Fisherman Sandal
3 Ways to Wear the Fisherman Sandal
The old school nautical footwear is made for more than just summertime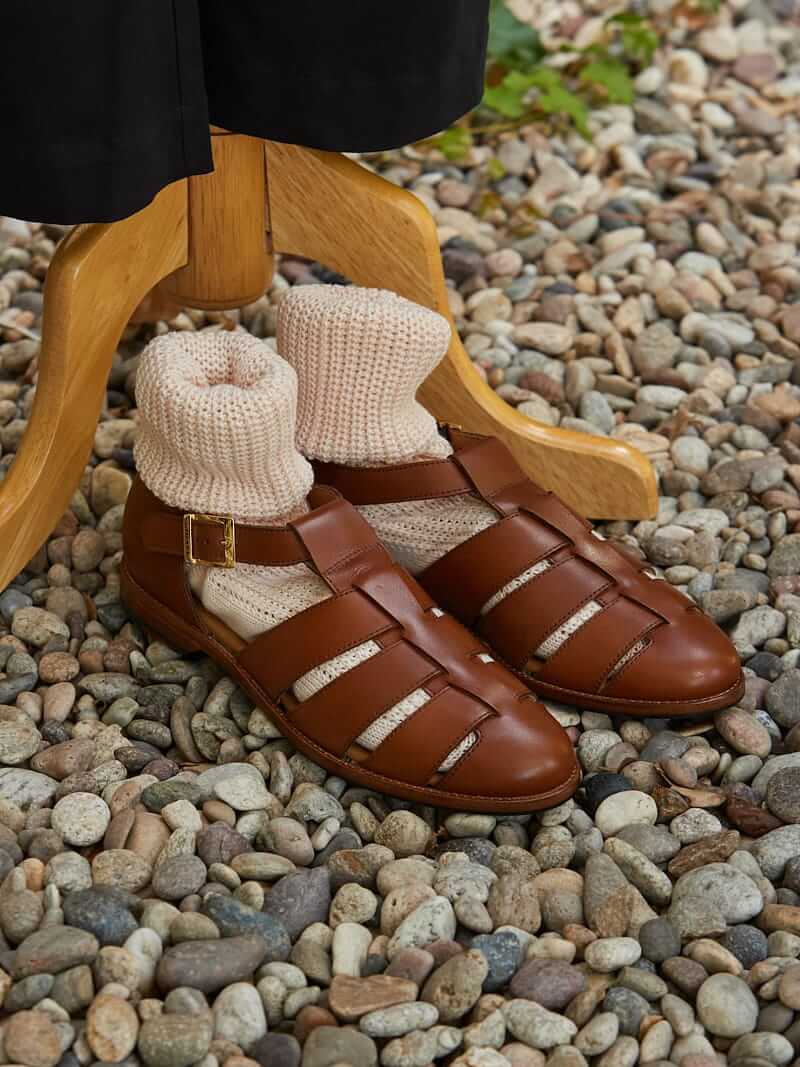 Maybe it's the White Lotus effect. Perhaps our love affair with mules acted like a gateway footwear drug. But leather fisherman sandals have never been hotter than they are right now. As sneakers take a backseat, and guys start to become more comfortable showing a little ankle, these leather beauties—almost a hybrid of a loafer and a '90s woven sandal—are primed to cross the Atlantic.
Whether you refer to them as Jerusalem cruisers or your only core memory is seeing your uncle grill in these, the origins date back to the early 20th century. Originating in the Mediterranean, they were worn by fishermen and other labor workers who required durable and protective footwear. The typical silhouette is a hefty woven pattern made of leather with a T-strap and ankle closure. They're lightweight, breathable and more durable than they look.
They're also more versatile than you might think. "I'm happy you're putting this on record somewhere because I started making the sandals three years ago," says Davide Baroncini, the founder of luxury cashmere label Ghiaia. "Shoes and watches say a lot about a person—a tough guy may think they're dorky at first ... until he sees me showing up to dinner wearing them like any other shoe." Which is exactly how you should treat them—like any other shoe. With socks or without, they're not simply vacation sandals. They're elegant yet easy going. Baroncini also credits knowing what looks good on yourself as a major part of pulling them off properly. "Matty Matheson is someone who looked excellent in our sandals. He understands proportions brilliantly, and that's the key to sporting these—but also any piece of clothing." The sandals can be seen as a statement footwear option; however, they're functional enough to last for a long time and are sure to patina beautifully the more you wear them. Here are three different sandals and ways to build a look around them.
3 Ways to Wear
the Fisherman Sandal
In the final days of summer, it's not too late for a vacation vibe. For under $100, these are the best choice to get sand in and leave out in the sun all day. The name derives from experienced artisans in East Jerusalem who handcrafted the sandals with 100% natural leather. With a pair of nylon shorts or swim trunks, you don't have to overthink the kit. Some earth-toned colors and a pair of standout shades will look great.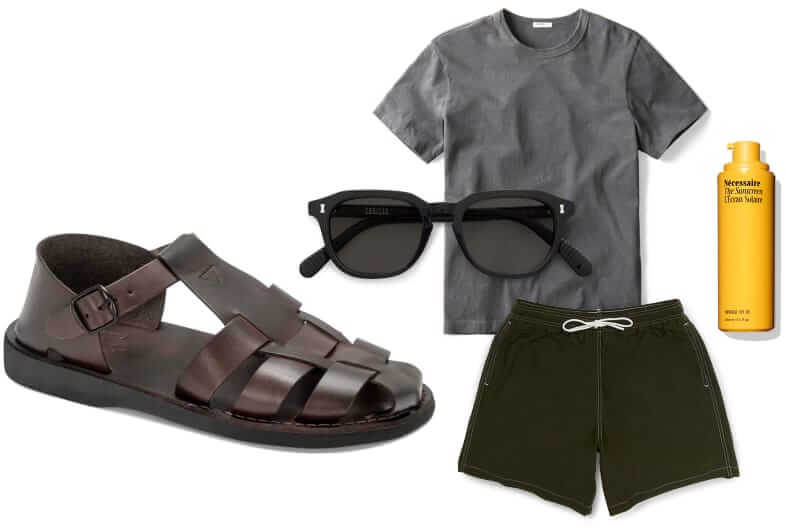 1
2
3
4
5
1) Leather fisherman sport sandal,
$84.95 by Jerusalem Sandal
2) Bunning sunglasses,
$165 by Cubitts
3) Slub classic tee,
$45 by Buck Mason
4) Mineral SPF 30 sunscreen,
$25 by Nécessaire
5) Otter swim trunk,
$110 / $55 by Adsum
Can leather sandals be worn while the leaves are falling? Of course. Paraboot's sandals are the most comfortable to walk in, thanks to the rippling rubber sole. A pair of cozy socks will keep your toes warm. I love the idea of a juxtaposing fit for fall, with a cardigan vest and lightweight knit polo up top and a pair of workwear-inspired cargo pants and sandals on the bottom.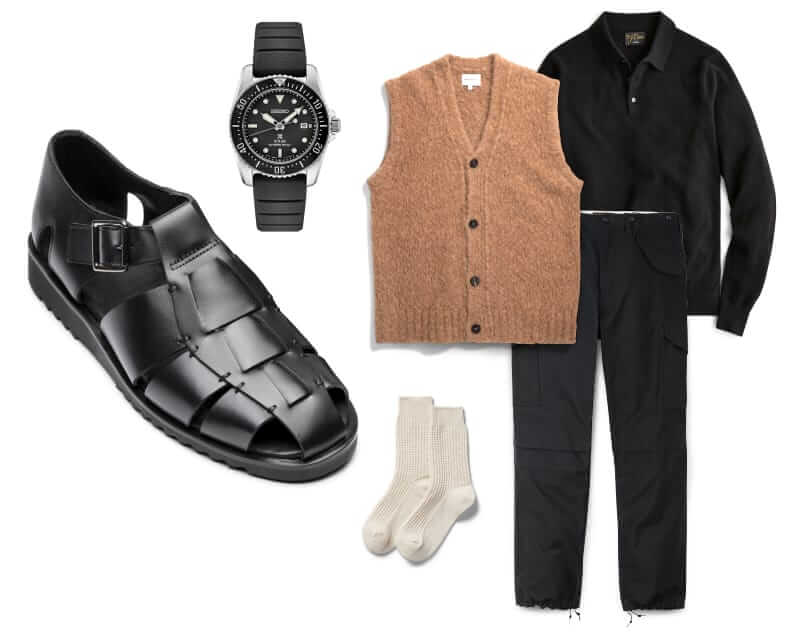 1
2
3
4
5
6
1) Pacific fisherman sandal,
$317 by Paraboot
2) SNE573 Prospex watch,
$475 / $355 by Seiko
3) August flame alpaca cardigan vest,
$370 by Norse Projects
4) Cashmere collared sweater polo,
$168 by J.Crew
5) Field cargo pant,
$225 by Filson
6) Waffle socks,
$20 / $14 by Taylor Stitch
Whether for work or a wedding, grounding your look with some sandals will set you apart in the best way possible. These beautiful cognac-colored sandals feature an almond moc toe, pin-buckle fastening and a stacked leather sole. As perfect as these are for a relaxed vacation look, they're just as easily paired with a relaxed suit—with or without a tie. But a crisp spread collar poplin and hand-rolled knit tie has all the classic continental style of an extra in The Talented Mr. Ripley.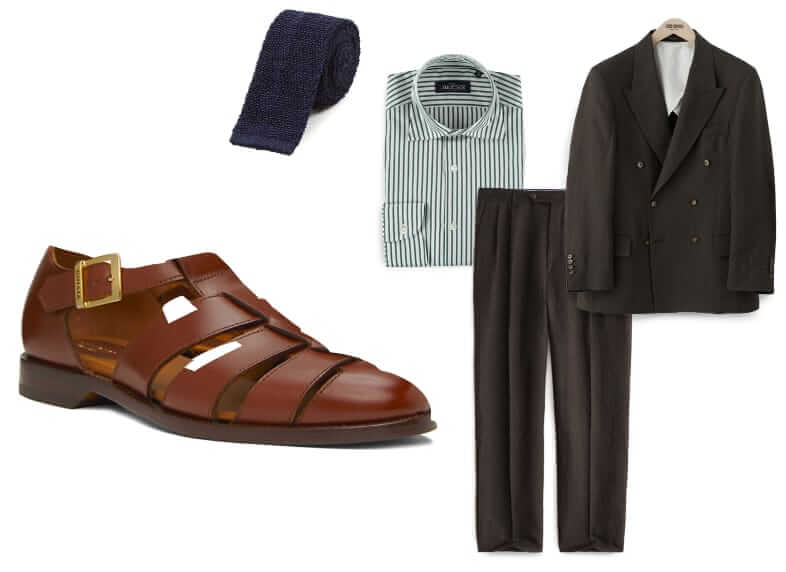 1
2
3
4
5
1) Pescatore leather sandal,
$695 by Ghiaia Cashmere
2) Silk knitted tie,
$225 by Drake's
3) Striped poplin spread collar shirt,
$245 by J.Mueser
4) Wythe double-breasted jacket,
$798 by Todd Snyder
5) Wythe suit pant,
$328 by Todd Snyder
According to Steel House Leather, this is how much revenue the leather industry generates globally each year.