Cover Your Windows
Windows can let in about 25% of summer heat just from the sunlight alone. The first thing experts tell you to do is add some sort of cover to block the light—especially during the peak hours in the early afternoon. Solar shades filter the light but are opaque enough to still see through. Window films go one step further, allowing you full transparency while providing 91% infrared heat reduction and protecting your furniture from UV-light. Another option is bamboo shades which both block the light while naturally absorbing humidity from the air.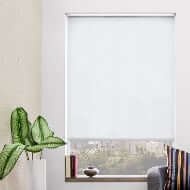 Custom solar shades,
from $330 / $264 by The Shade Store
Silver anti-heat window film,
$9.99 by Kespen
Bamboo roman shades,
from $200 / $123.95 by Select Blinds
What it's not too hot ... Open your windows at night to promote cross-breezes that will circulate cool air throughout the night, allowing for a fresh, cooler start in the morning.
Fans
Whether you have air conditioning or not, using a fan is a smart idea. It keeps the air moving around you like a constant breeze, allowing you to kick up that AC a few notches. And according to the Department of Energy, for every degree you push that thermostat up, you get about 4% of your energy costs back. Whether you want a slim window model, an oscillating air filter or a modern classic that's efficient as it is handsome, the choice is yours.

3-Speed Otto fan,
$199.99 by Stadler Form
Bionaire window fan,
$51.39 by Holmes

Hybrid Pure Cool tower fan and air purifier,
$399.99 by Dyson
Have a ceiling fan? Make sure the blades go in the right direction. During the summer, fan blades create the coolest breeze when moving counterclockwise to create a downdraft.
Smart Swaps
Think about ways to cut back on the things that are heating up your place. Switch out any leftover incandescent lightbulbs for energy-efficient and cool-to-the-touch LED bulbs. Forget about baking or roasting in the oven. It's time to grill more outside. And make sure your bed is outfitted for ultimate coolness. You can swap your pillow and your blanket, but adding a cooling mattress topper can really make a difference (and prevent the dreaded sweating in bed).