Who Makes the Best Men's T-shirt?
Who Makes the Best Men's T-shirt?
It depends on what
you're looking for ...
Finding the right T-shirt is a lot like finding the perfect romantic partner. There's a lot of different options out there and you might've had some bad luck in the past, but when you find the right one ... you just know. But unlike with that special someone, you don't have to be a one tee man. There are too many good T-shirts to settle on just one. Never before have there been so many great brands offering stylish and reasonably priced shirts made from high quality fabrics like organic cotton and hemp. They may be solid and simple, but they're anything but plain. These tees, cut from more substantial fabrics, can be worn in multiple ways: Layered under a shirt, slightly oversized for a more draped look or even tucked-in for an of-the-moment style.
The Best Men's Tees
in 2020
Vintage-inspired pocket and collar details
Slub cotton tee,
$40 by Alex Mill
Garment-dyed pocket tee,
$10.99 by Comfort Colors
Thick, sturdy and a little boxy
Ultra cotton tee,
$5.55 by Gildan
Our choice for softness and durability
55/45 Hemp and organic cotton tee,
$50 by Jungmaven
Hemp tee,
$36 by Wellen
Organic cotton tee,
$42 by Entireworld
Vintage tri-blend tee,
$25 by Buck Mason
Fine jersey crew tee,
$20 by Los Angeles Apparel
Heavy duty tee,
$55 by Dehen 1920
Makes you look like you workout more than you do
1950s sportswear tee,
$88 Levi's Vintage Clothing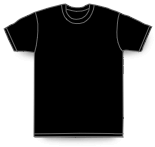 How to Buy Vintage Online
Take one of your favorite T-shirts and measure it between the armpits and from the collar to the bottom hem. This will give you a reference to compare it to the listed dimensions on a vintage tee being sold online.