The Best Long-Sleeve T-Shirts
The Best
Long-Sleeve
T-Shirts
The unsung layering
hero for Fall
It's officially autumn—let the layering commence. But while there's always talk of swapping out our polos and tropical shirts for something more substantial, there's never any talk about what's underneath. I'm here to sing the praises of the long-sleeve tee. The easygoing knit shirt makes for an ideal cover for transitional weather when breezy evenings are still too warm for sweaters but a touch too chilly for short-sleeves. I wear long-sleeve tees year-round because I run cold almost all the time. But it's always the perfect weighted top for your WFH wardrobe (or casual in-person office fits).
An essential for everyone's wardrobe, you can wear them with shorts, jeans or chinos, and even dress them up a bit with suits. If you're going to wear it by itself, you should size up as this type of silhouette looks better when it's more relaxed. If you're going to layer with an unstructured blazer or overshirt, then your usual size will do. Think of them as lightweight sweatshirts and wear them like your go-to crewneck. Whenever styling these, feel free to let them hang over your wrist, or if you're cooking dinner for the evening, don't be afraid to push them up.
For me, the ideal long-sleeve T-shirt has a structured neckline and borderline mock-neck that stays on the neck, even after washing. Another detail is a finished hemline at the waist, so it rests just below your belt, and ribbed sleeves at the wrists are a must if you're going to wear this fitted—if you're sporting an oversized look, then a raw-edged wrist works even better for a nonchalant style. With all the different options out there, we've selected a few to help guide you in the right direction. Take your pick.
The Best Men's
Long-Sleeve T-Shirts in 2022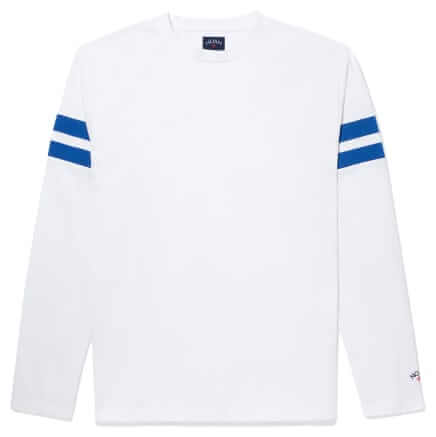 Jet sleeve T-shirt,
$98 by Noah
M's cover crew T-shirt,
$100 by Houdini Sportswear
Pigment dyed
long-sleeve crew T-shirt,
$65 by Stüssy
Coolmax St. Jersey
long-sleeve T-shirt,
$130 by Nanamica
Relaxed premium-weight
cotton pocket T-shirt,
$59.50 / $29.50 by J.Crew
Indigo dipped cotton
long-sleeve classic pocket T-shirt,
$60 by Buck Mason
How to care for
your long-sleeve tees?
No matter the fabric, always wash on cold, then hang to dry. This will preserve the fibers in your garments, and since it's not going in the dryer, shrinking and pilling will be prevented.