Shop Small, Specialized
If you're looking to expand your palate and discover something new, try a local specialized wine shop. Grocery stores generally carry wine from the largest distributors—who do an excellent job of creating labels, names and brands to market to specific demographics, even when the wine doesn't vary that much. Let the shop clerk know your price point and start taking notes.
The All
Important Importers
Here at Valet. we advocate finding a brand and supporting them knowing they'll put out the best product. Wine is the same way. If you find something you like, check the importer on the back of the label and branch out to find their other offerings. Importers travel the world to discover winemakers that few people outside their village have ever tasted. Talk to sommeliers and store owners about what you like in wine, and see if they have any importers they would recommend. Because it stands to reason that if you like one of bottles in their portfolio, you share their taste and would be interested in trying more.
What About
"Natural" Wine?
Well, it's a misleading title for one. "Low intervention" is more accurate, and it's sparked legitimate debate about the health benefits. The main takeaways are there is less sulfites in these low intervention wines and the alcohol content is going to be one to two percent lower. If you feel healthier or less hungover after drinking it, by all means, pop open another bottle, just know that may be the placebo effect kicking in.
Let It Breathe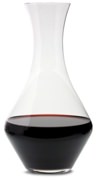 Cabernet decanter,
$55 by Riedel
If you're going to buy one accessory to get your new hobby flowing, start with a basic decanter. In a perfect world, you'd want your wine to breathe for 30 minutes to two hours, depending on the bottle, but it's tough to be patient. Even if you pour your bottle in while you start on your first glass, winemakers assure us that it'll make a difference. Let science do its thing and avoid all the other gimmicks out there. Plus it'll look great on your bar cart.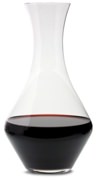 Cabernet decanter, $55 by Riedel
The Two Crowd Pleasers
A Pinot Noir and Riesling are the red and white that are the easiest to pair with food. If you're hosting or in charge of ordering for a table, these foolproof bottles will be the safest choices. And when the menu gets spicy, exotic, or you're seeing things you don't recognize in a language you don't speak, venture back to these basics.
Go Ahead and Cheap Out
"This one will make me look cheap," we've all likely thought when looking at an inexpensive bottle on a wine list. But that's likely not a bad thing. Restaurants know it looks better to order the second most inexpensive wine, so that's bottle they're looking to get rid of quickest. If you order the bottle with the lowest price tag, you're still ordering wine that the restaurant deems worthy of their guests.