From the
Desk of ...
Rob Howard
Founder, Kindred Motorworks
Old cars are cool. They just are, right?
But anyone who's ever owned a vintage ride knows the reality is not always the dream that Instagram makes it out to be. It's a never-ending game of "find the problem" before you take it out onto the road. For those not interested in battling rust and tinkering with mechanical failure, the restomod movement offers a smart and stylish solution. Restoring and reworking these classic cars has become a popular way to keep old school machines alive and on the road. That means infusing them with new powertrains, safety features and other modern-day touches. It also means deciding between gas or electric. But Kindred Motorworks' tech-focused approach puts the startup in an entirely different lane than the competition by allowing them to do both.
Kindred launched with three iconic classics: The first-gen Bronco, the Volkswagen Bus and a '69 Chevy Camaro. Any car guy will tell you, there's just something abut the smell of gasoline, but Kindred's founder and CEO, Rob Howard, says there's no denying the power and performance you can get with electric these days. "We've been replacing crate motors in classic cars for generations and the electric is the newest kind of crate motor that's available," says Howard. "And the reality is that it's more sustainable, the torque is better and the maintenance is so much easier."
But it's not as simple as dropping the new engine into an old car. Kindred has reworked the entire process, streamlining every phase of the restomod process to deliver restored vintage cars that are fully modernized with contemporary powertrains, tuning and safety upgrades. There are also stylish updates like LED headlights, Bluetooth infotainment systems and handsome interior details. It's a strategy that has helped the company raise more than $20 million from high-profile investors, including Hagerty and Iron Man himself, Robert Downey Jr. We caught up with Howard at the garage to see how the successful entrepreneur gets his work done.
What's currently
on my desk
My dad's tool box (he'd be proud of what I'm doing)
Design docs for our new production facility
Apple MacBook
Old school calculator
Boorum & Pease notebook (I have a stack of full ones)
Foray Onpoint pen (the underrated house brand of Office Depot)
Kindred prototype mini models and a Virginia Tech themed VW Bus sign
Mustang chair (a birthday gift, since I've restored two vintage Mustangs in this garage)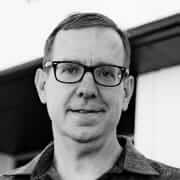 I've always
been into cars.
My dad taught me how to work on cars in our driveway back in Philly. In our family, when it broke, we fixed it so all the Howards learned to be handy at a young age. I've been working on old cars ever since. Usually, once my wife and kids go to bed.
No surprise, but my desk is actually more like a shop workbench.
I do my best thinking in the garage. I love working with my hands. The oldest, and perhaps, most important item on here is my Dad's green toolbox. It's battered and rusty and still has some of his tools in it. That tool box takes me right back to the basement shop and the driveway repair jobs. The newest item on my desk is probably the stack of drink tickets we were recently handing out at Baja Cantina in Carmel where we put our cars on display for Monterey Car Week. I never had time to partake myself.
I have a lot more fun now, but this is similar to my desk when I started my career.
My first job out of college was as a civil/environmental engineer, so my desk was littered with construction drawings, soil samples and faxed copies of reports. A plain note book and my trusty calculator were there, then and now.
The journey to bring Kindred to life has been an amazing learning experience.
Getting that first prototype vehicle across the line was both our biggest challenge and most rewarding achievement. Our first build-up looked cool, but like most restoration projects, it missed on a number of things. We had to rework the steering (twice), suspension (three times), along with the tires and gauges. That process required thousands of hours, but we learned so much for the next model and that Bronco is now the best Bronco in the world. We have a lot of pride in that vehicle.
I'd say I'm 80% digital these days.
I do a lot via computer and my phone, but I doodle, brainstorm and take notes in my paper notebook. Long ago I stopped writing anything on post it notes or loose sheets of paper which inevitably get lost. I also brainstorm and plan by writing all over my walls and windows. For some reason, standing, pacing and that dry erase marker provide me endless amounts of inspiration.
I tackle my to do list between scheduled calls and meetings.
When it comes to calendars, I have not perfected synching the family calendar with the work calendar which results in a few screw ups every month. At least I've been able to integrate TeamSnap's calendar into my work calendar so soccer and mountain bike team coaching actually happens.
I use Apple Notes daily for my to do list.
Whenever a to-do pops into my head, I add it to my personal or Kindred list right away so I don't lose track of it. I do this on my phone and my laptop, which has the Notes app synched. I get a little burst of accomplishment for every check box that I get to mark. I also enjoy the long scroll down through my to-do history.
No lunch at your desk. Ever.
I'm firmly against it. What's more important in life than sharing food with friends and family? For me that extends to co-workers at the office/shop. We bring food in every day and it's a chance for me to slow down and connect with a wide variety of team members, Talk usually revolves around our lives outside of work, which enriches relationships and helps build common ground.
A founder's schedule is rarely routine.
I try to get a coffee every morning and to be home for dinner with the family most days. But other than that, my days are wildly different. Investors, press, recruiting, soccer drop off and test drives all make my days very different. Sometimes in the office, sometimes around town and sometimes on the road.
I'm still finding tactics for staying on track and focusing.
But music helps a lot. A long Spotify playlist gives me the ultimate power of focus. And when it's needed, a good pair of headphones tunes out the outside world and comes with a built-in "Do Not Disturb" look.
I'm pretty vigilant when it comes to email.
But I'm not a strict "inbox zero" devotee. I follow the "delete, delegate, file or act on" method. It's the "act on" emails that linger in my inbox as a kind of to do list that makes inbox zero only an occasional reality.
If I had to sum up the secret to my success, I'd say it's my ability to move in the moment.
Recognizing and then seizing those opportunities when they arise. You don't want to hesitate. You want to act fast. So helpful in fund raising, sales, recruiting and in being an entrepreneur.