From the
Desk of ...
Ryan Barr
Founder, WP Standard
Ryan Barr isn't afraid to pivot to something entirely new. He's someone who jumps into his passions headfirst and is only interested in doing things all the way. There's no half-assing it for this guy. As the founder of leather goods company, WP Standard, his past lives all merge to help him craft amazing pieces that get better with age.
To hear Barr tell it, after "a string of failed careers" including high school teacher, salesman, and guitar player, he decided to start a company making leather guitar straps. He simply wanted to start a business where he could dabble with a new passion—leather craft. "I was also a guitar player so we got our start making bags and accessories for guitars," he says. In 2009, he officially started WP Standard with just a few hundred dollars and logged his first sale through a $20 advertisement on a guitar forum.
Business picked up, he found a manufacturer that could craft the goods to his standards and then the business eventually evolved to make more mainstream goods. For more than a decade now, the brand's bags, wallets and accessories have become synonymous with high quality full-grain leather and handcrafted construction along with unique and sturdy details. The bags are beautiful, the wallets are as handsome as they are durable—everything is built to last and guaranteed for a lifetime. Barr is someone who took a passion and turned it into an enviable career. We caught up with him to dig around his desk and learn more about how he works.
What's currently
on my desk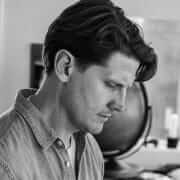 I've got a lot of old stuff on this desk, but the most important is ...
This post card from my father to his family. It was written after he was drafted into Vietnam. "Dear Mama, Daddy & Bruce, Made it to Ft. Polk Thurs about 11:30. For a man with no hair and no address I'm doing fine. Love, Tony." He was 19 years old when he wrote this and about to go to war, but he maintains a wonderful stoic humor. I keep it as a reminder that whatever my current frustration (and there are many), to keep proper perspective and cheerfulness in the face of uncertainty.
The newest item on here is a Peter Beard book.
I'm a big believer in all types of books and printed matter and have a whole section of my desk dedicated to them. It's almost like a shift from the computer station to the book section where I fill the creative well.
It's a long way from my first desk.
My first job with a desk was a school teacher. I don't miss the limitations of that setup or the textbooks. My current setup is an extension of who I am and I'm so grateful for my little corner of the universe.
I rely on technology to keep me on track.
I use G-Cal for my calendar and Trello as the operating system for my company. Each position in the company (including myself) has its own Trello board with columns that correspond to daily tasks and projects.
I think differently when I write on paper.
I always have a large moleskine with the dot grid. When I need to think through something or sketch, it has to be on paper. Digital tools are great, but will always be a complement to the paper notebook.
Email can be so
overwhelming, right?
I've been using Inbox When Ready for Gmail. It allows me to hide my inbox, which can feel like quicksand at times.
I'm not an "eat lunch at your desk" kind of guy.
For me, lunch is an opportunity to disconnect from work and move around a bit. Ideally, I'll go out somewhere and have a quiet lunch or share a few moments with my wife around the kitchen.
But I thrive on routine.
I'm an early riser and prefer to get the big things done early. I find that my energy and inspiration wane over time, so I push the more rote tasks to later in the day.
I try to set the right vibe for focusing.
I like to light a candle and put on some music in the morning. It's a ritual of sorts that gets me in the right headspace. And, again, I also make sure my inbox isn't visible.
I believe in inbox zero-ish.
If I can get there, wonderful. But typically I end the work day under five messages, and I'm comfortable with that. But honestly, anything more gives me anxiety.
It can be difficult to "switch off" after work.
I have small children which are really demanding of your attention. I also want to enjoy this time with them, but it can be difficult to switch it off. Small business owners are always juggling so much in our heads, so you never truly disconnect.
If I can boil down my secret to success, I'd say ...
Wanting everyone around me to succeed and be happy—the customers, employees and vendors. If you approach things in this way instead of being so inwardly focused, you'll find allies and people that want to help you along the way.