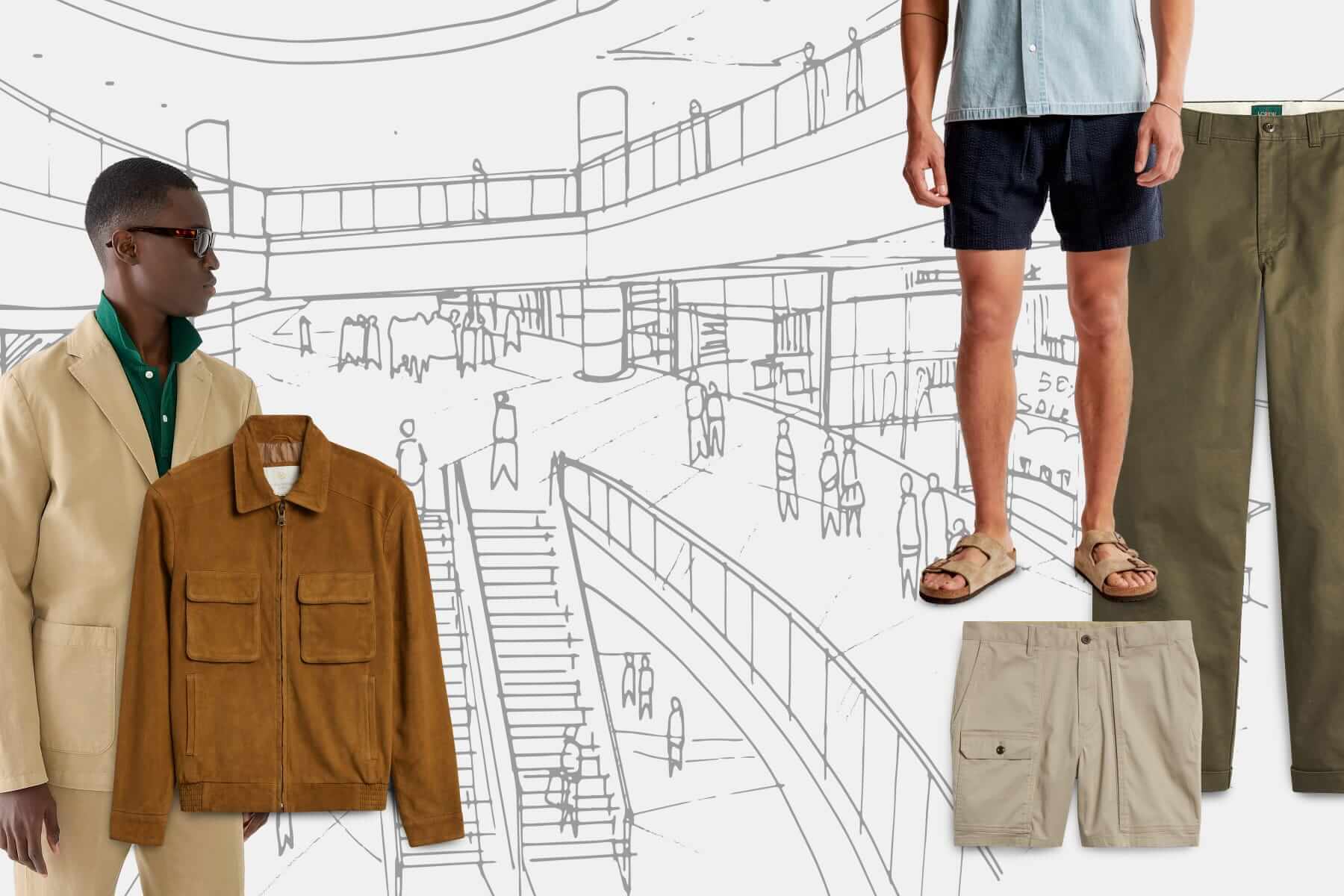 Mall Brands
Are Back
The stores from our youth
have regained their cool
Ten years ago, one might argue, we were in the golden age of menswear. Guys were finally excited about clothes, blogs were exploding with information and even if you couldn't afford the latest designer goods, you could still participate by shopping at one shop that nearly everyone had access to—J.Crew. At the time, Frank Muytjens—a Dutch-born designer with tours of duty at Ralph Lauren—was putting together a collection of attainable, on-trend pieces, from suits and vintage-inspired jackets to quality denim paired with heritage brand collaborations. Then Muytjens left and J.Crew fizzled out while luxury and streetwear took off.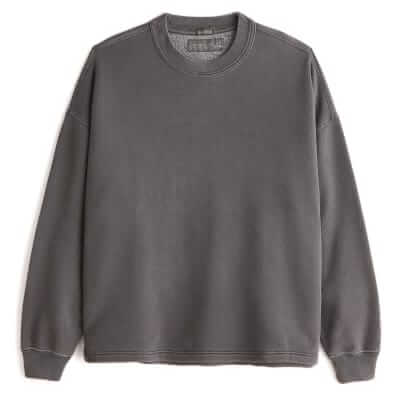 Essential open-hem sweatshirt,
$60 / $26.99 by Abercrombie & Fitch
But something's happening down at your local mall. The chain stores of our youth have found their mojo and gotten their groove back. First slowly and then all at once. Abercrombie & Fitch kicked things off, bringing on menswear veteran Aaron Levine, who shed the 130-year-old outfitter of its cringey, hyper-sexualized, cologne-saturated image. Levine dug deep into the brand's archive to find its soul. He helped A&F up its quality by focusing on fabric and fit. Sadly, he parted ways with the brand, but they're all the better for his guidance. The store is now a place where you can get reliable jackets, relaxed washed sweatshirts and workwear pants.
J.Crew followed the same path. After floating aimlessly without any real creative direction (and officially filing for bankruptcy), they tapped Brendon Babenzien, the founder and designer behind the cult brand Noah, to overhaul the men's line and return the label to its former glory. Babenzien went back to the brand's roots, revisiting those cool images from bygone catalogs that now get so much love on mood boards and social media accounts like @lostcrew. He spent his early days overhauling J.Crew's fabric assortment. That means that staples of the brand, from rugby shirts to suits, now have a hardier feel and more substantial weight behind them. There's integrity in the clothing again, along with a much needed shot of designer styling—meaning these are well-constructed classics, but there's enough just off-kilter about the clothes to make them feel fresh and interesting.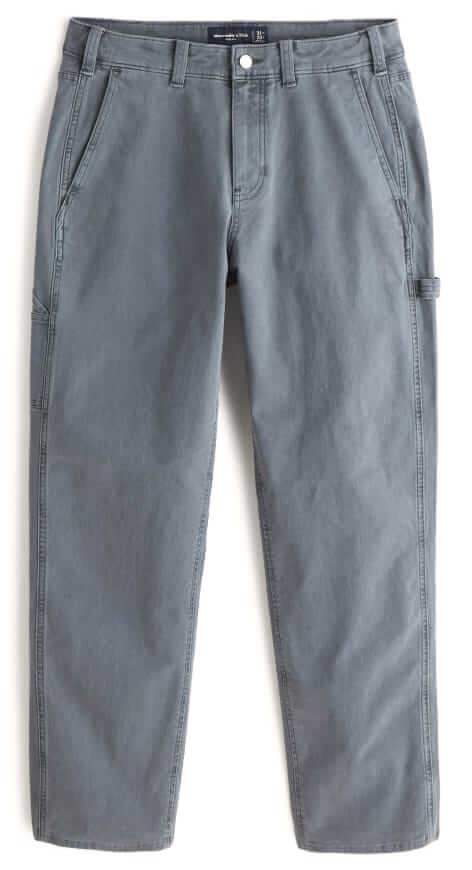 Loose workwear pant,
$80 by Abercrombie & Fitch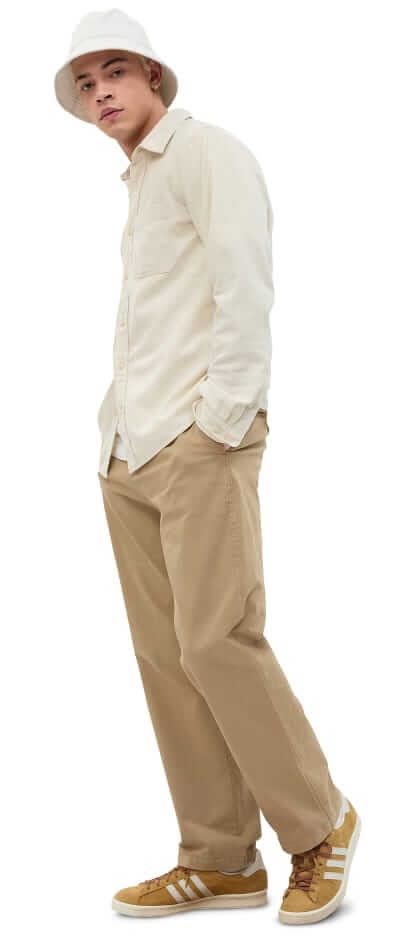 '90s Loose Khaki pant,
$69.95 / $41.97 by Gap
Linen-cotton sweater polo,
$90 by Banana Republic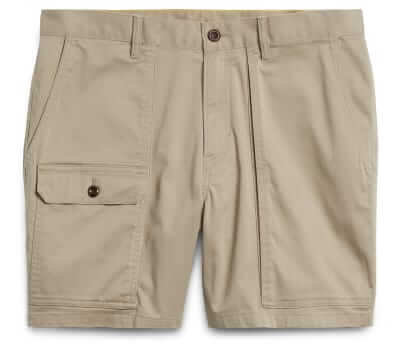 Archives Expedition short,
$80 / $54.99 by Banana Republic

Giant-fit chino pant,
$98 by J.Crew
Even the Gap, which hasn't enjoyed the same revival as their fellow mall brands, is dipping back into their archives and getting some mileage from re-issuing icons like chinos from their heyday in the '90s. And the great thing about buying from big brands like this is that they make it so easy. Physical stores are available coast to coast, shipping is often low to no cost with most purchases and there are always a myriad of discount codes to apply. In other words, you rarely ever have to pay full price. What's not to love about that?
But it's not just about the clothes themselves. These uniquely American brands are beloved by a large swath of people. "For me, it's about the nostalgia and simplicity of the time when many of my peers were mall dwellers and would come across Banana Republic, Gap and Abercrombie & Fitch," says stylist and vintage collector Marcus Allen. "These stores represented a casual ease that was also aspirational—the marketing and commercials for Gap, the 'model' crew at A&F, and the classic cool urban safari aesthetic of BR contributed to each brand developing pieces that were equally as coveted as high-end European houses."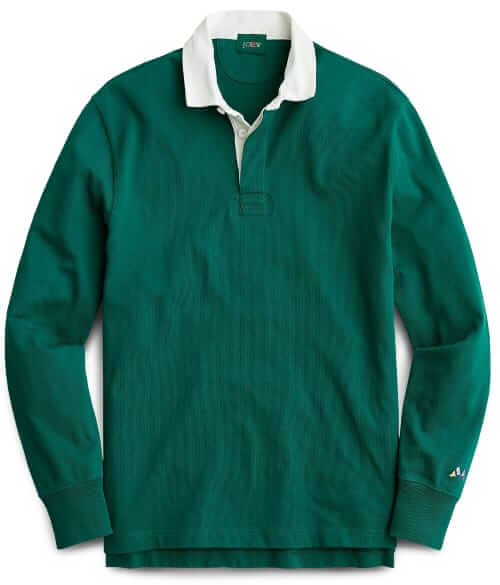 Rugby shirt,
$98 / $49.50 by J.Crew
Vintage dealer Raiden Francis, who is a fan of the Abercrombie cargo pant, agrees. "Mall brands give an early-'00s off-duty look if you do it right," he recently told Vogue. "I wanted the 2000s celebrity cool-guy look, very Laguna Beach. I'm going for Brad Pitt with the gray 'Trash' shirt and the 2005 Vogue Italia Steven Meisel Hollywood shoot."
He also says at the same time, younger generations are becoming more knowledgeable about the branding and quality of several of these garments. Because if you're able to get your hands on some vintage BR or Abercrombie cargos, you'll notice the fabrication is far superior to what you'd find in stores today. That's because the details that went into the design—from interior tags and buttons to zipper pulls—they all had a lasting effect. Plus, there's an added cool factor to them being genuinely vintage pieces now. Of course, if you can't get your hands on those, the next best thing just around the corner ... past the cart selling sunglasses.
Archives Pampas suede jacket,
$400 by Banana Republic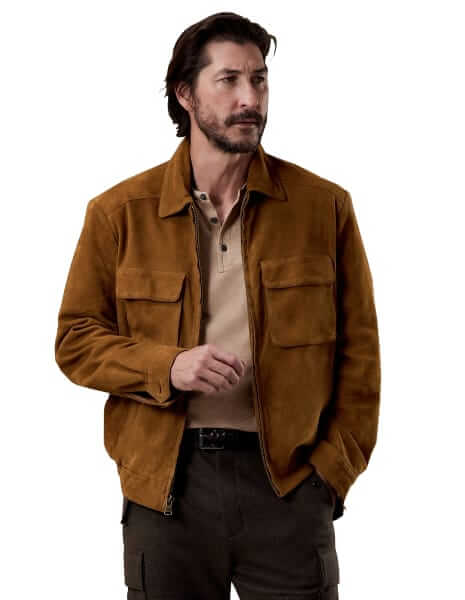 Archives Pampas suede jacket, $400 by Banana Republic
Archives Pampas
suede jacket,
$400 by Banana Republic
Garment-dyed cotton-linen
suit jacket ($178 / $141.99)
and pants ($168 / $109.50), both by J.Crew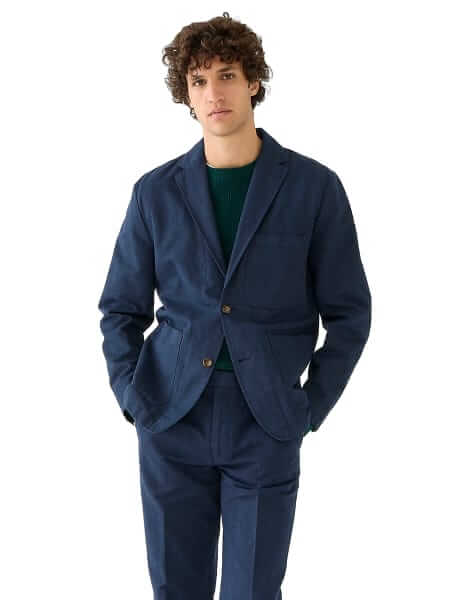 Garment-dyed cotton-linen suit jacket ($178 / $141.99) and pants ($168 / $109.50), both by J.Crew
Garment-dyed cotton-linen suit jacket ($178 / $141.99) and pants ($168 / $109.50), both by J.Crew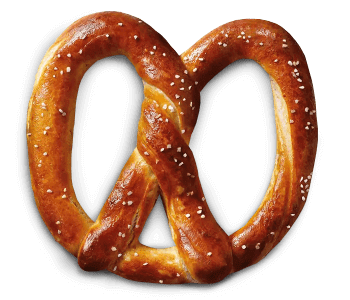 Still Standing
Mall brands that have never let us down: the food chains. Cinnabon, Auntie Anne's and Panda Express were, are and will always be satisfying.