My Morning Routine
⇾ Oli Walsh, ASYSTEM Co-Founder
My Morning Routine
⇾ Oli Walsh,
ASYSTEM Co-Founder
Waking up, working out and making big moves with the stylish wellness entrepreneur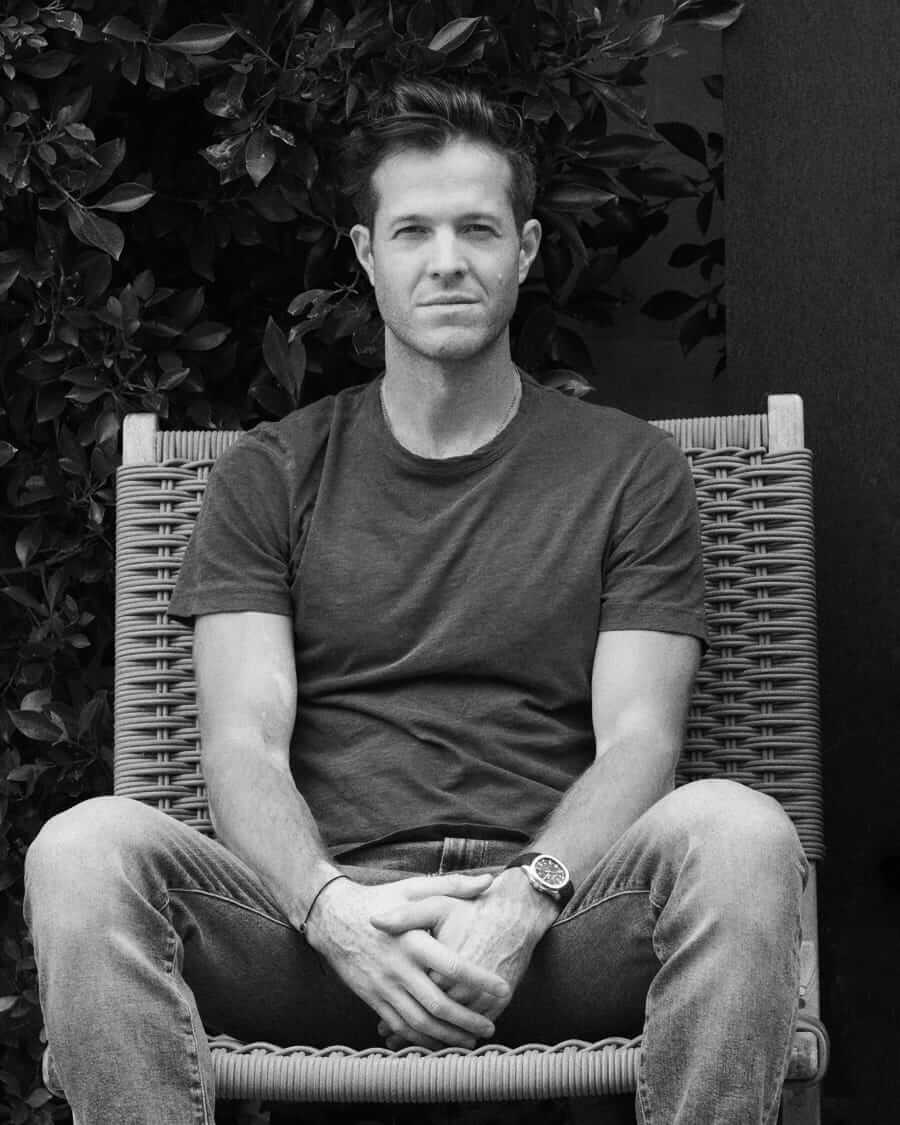 Oli Walsh, the British-born entrepreneur, isn't interested in doing things small. After founding a popular creative agency in London and tours of duty in the fashion business, he partnered up with his friend and fellow entrepreneur, Josh LeVine, the founder of Frame Denim. Together, they launched ASYSTEM—a men's wellness or "betterment" brand born out of their shared frustrations. "We consider ourselves pretty normal guys," he says. "We have families, kids, we travel, we're athletic and try to keep fit and healthy ... we try and balance it all, but felt there was no self-care solution which really helped guys like us." So they set out to create it. The result is their simple, science-backed self-care regimen that tackles your wellbeing, both inside and out. As someone who recently became devoted to the brand's Superhuman Supplements and Overnight Rebuilding Cream, I wanted to know more about the man behind it and what else he does to optimize his day. I caught up with Walsh as he and the ASYSTEM team were finalizing the details on their next product, a CBD pain relief system called Radical Relief, out next month.
The Series
Those moments between turning off the alarm and getting into our work routine can be the most defining 60 minutes of our day. Benjamin Franklin set a day's worth of plans by 5 am and Steve Jobs asked a simple question: "If today were the last day of my life, would I want to do what I am about to do today?" Our rituals are a reflection of us. So we've ventured out to discover how some of our most influential and fruitful peers get started.
My Routine
When I wake up depends on where I am.
I travel so much at the moment, but if I'm at home with the family, I like to exercise at the start of the day—six to seven am—before the school prep starts (I have three kids under the age of nine). On those days, my alarm gets me reluctantly out of bed around 5:40 am. When I am traveling, I'll get a little extra sleep and exercise a bit later around seven or eight.
I feel so conflicted about sleep.
I have every intention of trying to get eight hours a night, which I know I should do, but the realities of life at the moment mean it's usually between six and seven instead. I use the sleep tracker Sleep Cycle as my alarm and I find it has the nicest chime of any alarm I have come across, and the data is useful too.
I'd call myself a "forced," not a natural, morning person.
I wake up early, but don't find it very easy. I know it's not healthy, but I find looking at my phone first thing as the most effective way to wake me up. I check and reply to emails in bed, then get into my gym clothes and head to the kitchen.
First thing, I take my supplements.
When we created ASYSTEM, I learned that your body's natural production of hormones spikes within the first 30 minutes of waking up—so this is the optimal time to take any supplements. So right away, I'll get a glass of water with fresh lemon and take our Superhuman Supplements. Then I'm ready to work out / run with friends / whatever is happening that day. Otherwise, I'll start making the kids' breakfast before all the household morning chaos erupts.
I find exercise very meditative.
It's a time when I both am in the moment, and am also able to think about challenges ahead in the day. Forcing myself into an early start and getting exercise done first thing, I find this sets me up and gives me time to mentally prepare and enter the day in a much calmer and more thoughtful way.
I'm on the Bullet coffee routine.
About two years ago I started it and haven't looked back. We always make our own. A French press of coffee, mixed with Cacao butter, MCT oil and some collagen powder in the VitaMix. The key is to mix it for a good 30 seconds so it gets nice and frothy.
I don't really eat breakfast.
Just the bullet coffee most days. Although a weekend treat is heading to the local bakery with my daughter and picking up a bunch of almond croissants.
That little snippet of precious family time is so important.
Even though it is a madhouse trying to prep the three little ones for school, I'm very aware that this is a phase of life which is so short in the scheme of things. I try and remind myself that the stresses of emails and daily hurdles are nothing in the scheme of life and to be present with my kids as much as possible. We try to all sit round the breakfast table at the same time—even for 10 minutes or so every morning we are together. It's such a special moment.
I have to exercise.
A little while ago, I heard of a life-hack called non-binary decision making. It's essentially removing a decision from your plate to force you to adopt something. So I applied this to exercise, which I wanted to do each day. I stopped asking myself, 'am I going to exercise today?' and started asking myself 'what exercise am I going to do today?' It's non-binary—I have to do something, it's just a matter of what.
But I always mix things up to keep it fun.
Some days I will do a Barry's Bootcamp (my favorite group class option), other times its a beach run, tennis, hitting the climbing wall, going hard with a personal trainer, climbing steps in the forest or trail running with a friend. For the most part, as I mentioned, I try and do this in the morning. I really believe the sweat and focus it brings is the best possible set-up for tackling any day.
I need both a to-do list and my calendar.
For day-to-day planning and scheduling I use my iCal, but I also swear by the app ToDoist for keeping track of important tasks so balls don't get dropped.
My grooming
is pretty simple.
But I really only want the most effective products. I shave once a week, but I don't really look forward to it—to be honest. And I make sure my moisturizers have the necessary levels of SPF in them.
Clockwise, from top left
Performance skincare set,
$45 by ASYSTEM
Winston razor,
$20 by Harry's
No Green,
$22 by Corpus
Tacit eau de parfum,
$155 by Aesop
Winter wash,
$30 by Fellow
Mountain Racer running shoes,
$230 by Salomon x District Vision
Collagen peptides,
$43 by Vital Proteins
Superhuman supplements,
$85 by ASYSTEM
Brain Octane MCT oil,
$48.95 by Bulletproof
I try to dress for the day.
I used to be pretty experimental with my fashion when I was younger, and then as I started working harder in London and then Vancouver it basically gravitated to 99% black clothing. That made it really easy! I've never been one to plan my outfit the night before. Now that I'm living in LA, my wardrobe has started to get more adventurous again, which I must say, I'm enjoying. Even having worked in the fashion industry for so many years, it still amazes me the power that clothes have to transform your energy for the day.
Never Leaves
Home Without ...
Never Leaves Home Without ...
"This simple talisman necklace my wife gave me. It's from Pyrrha, with the symbol for 'Inner Strength' stamped into the silver."
Inner strength necklace, $185 by Pyrrha