Style Strategies
⇾ How Davide Baroncini Shops
Style Strategies
⇾ Davide Baroncini, Founder
of Ghiaia Cashmere
The Italian-born California designer on the importance of buying with intention and why time is the ultimate extravagance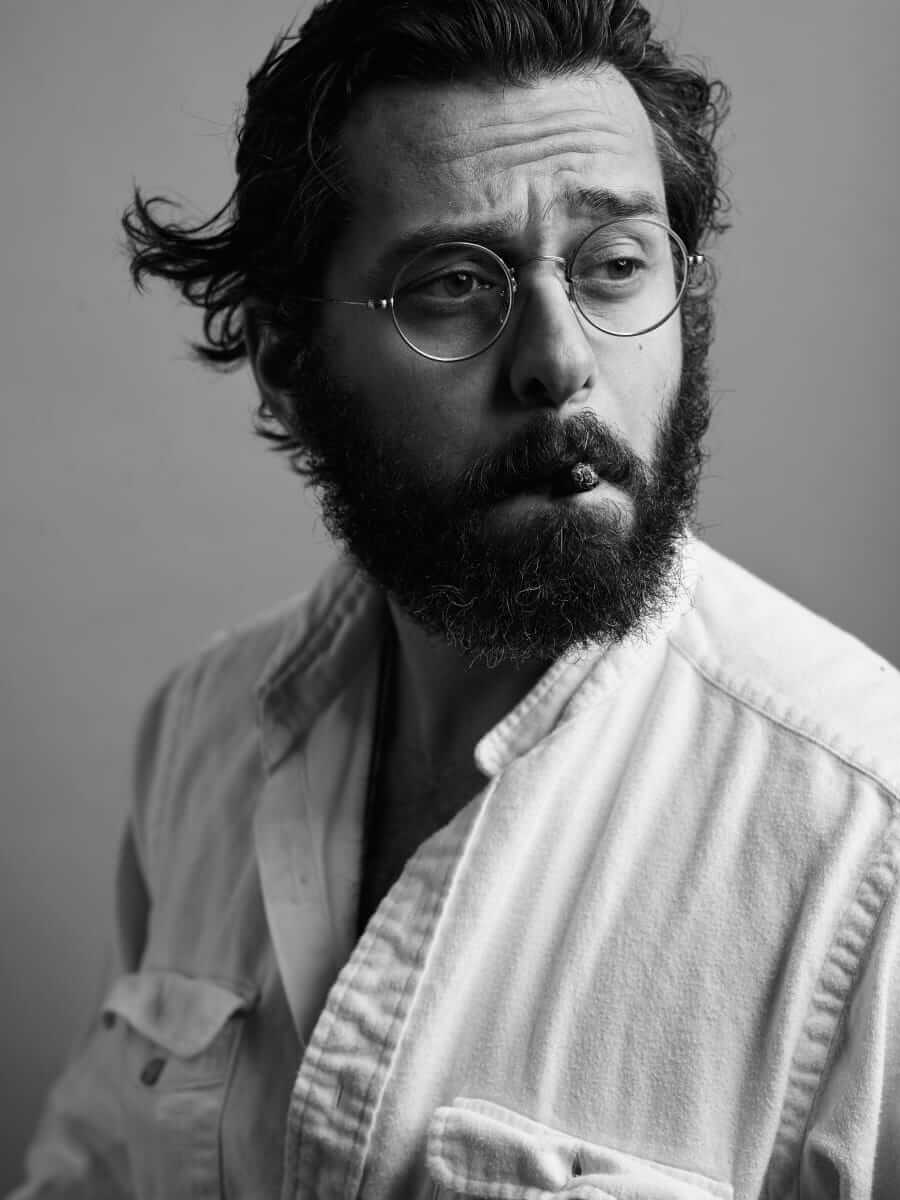 "La Ghiaia" is a Mediterranean stone on the beaches of Sicily, which Davide Baroncini grew up with underneath his feet. So it makes a fitting name for his burgeoning brand of relaxed yet sophisticated sportswear that he's building from the ground up. Ghiaia Cashmere came on the scene a few years ago, offering the perfect year-round sweater—his version is made in Italy from 100% cashmere and finished with a ribbed neck, cuffs and hem for a more modern design and fit. Fast forward, and the label now offers poplins, cardigans, chinos and even a pendant with his dog Ciro's face. Saying the brand is an extension of Baroncini's life would be an understatement—he is the brand. Vintage cars, sea-diving watches and his famous Tosconella cigars create the aspirational world that he's eager to share.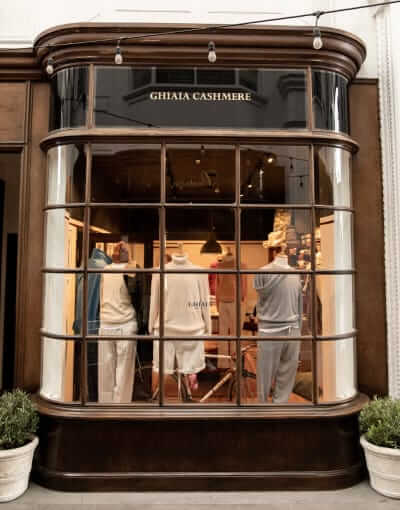 From the in-store cappuccinos and hand-written customer cards to the masterful merchandising, the Ghiaia experience feels intimate. Of course, you're buying an expertly crafted sweater, but you're also obtaining a piece of that laid-back Italian lifestyle. The Ghiaia clientele isn't one specific person or demographic either. "The range of our customers is wider than I expected, which I'm very happy about," says Baroncini. "It's someone who buys less but better, which several brands preach but necessarily may not practice."
For a brand that started less than five years ago, Ghiaia has some big-time supporters. From chef/restaurateur Matty Matheson to menswear designer/insider Aaron Levine, they're all dripped out in the label's sweaters and fisherman sandals. For a guy who outfits cool people, how might he dress? Baroncini's personal uniform consists of easy neutral tones—shades of cream, navy and grey—colors that give off a blasé elegance that only Italians seem to possess. The secret is mixing tones and textures—keeping things tailored yet relaxed to give you a refined, effortless look. Regular Valet. readers might also recognize him from our 'Three Ways to Wear' series, where he showed his appreciation for excellent watches and trustworthy workwear. Which is why we wanted to know more about his style.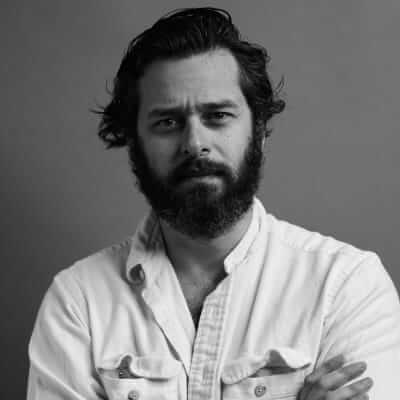 You have quite the watch collection—what's a good "first watch" for someone to purchase?
I became fascinated with watches once I understood how they intertwine with a man's personality. I remember my uncle, who was a police officer, wore a diving watch that was gifted to him by someone in the police diving division, and I thought how cool he looked whenever wearing it. He was in the mobile unit, and his job was to chase bad guys around the street, and he would do so in an Alfa Romeo.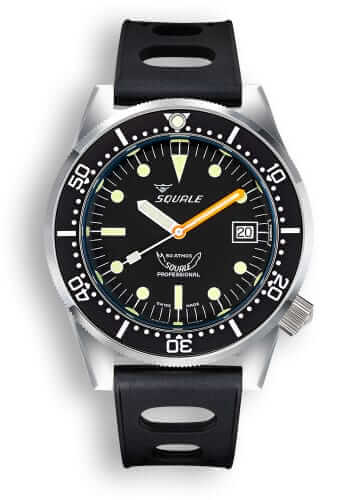 1521 classic watch,
$1,100 by Squale
I have watches that are $50 from eBay and some on the higher end, but you should always buy one that reflects your personality, no matter your budget. Selecting one watch is difficult, but Squale's diving watches are great. Their quality is unmatched, especially for the price.
You worked for Brunello Cucinelli and are inspired by Ralph Lauren—why do you think Ghiaia is the ideal mix of both?
We pull inspiration from both because they are brands that evoke an aspirational emotion to be in their clothes and world—we try using the same approach. In the same way, Ralph Lauren was able to capture the American lifestyle, Brunello was able to do so for Italy. I hope I'm falling somewhere in between—except with my own spin.
I also believe in operating with no expectations. When designing, I'm not looking to hop on the next trend. Instead, I aim to create timeless pieces that you can have for a decade or more.
How did you know it was time to start your own brand?
When I left Brunello, it didn't feel natural for me to work for another brand. I came to California to get married and start a new chapter of my life. Everything was going well, but professionally, I was fragile and felt a bit empty. The brand was just an idea in my head, but in the middle of trying to navigate being in Los Angeles, working on Ghiaia became an outlet for me. In the beginning, the brand almost felt primal because I had limited tools, but I'm happy to see where the brand is today and excited for what's to come.
How would you describe your style in five words or less?
Choosing five is too difficult ... but my style reflects my childhood, professional beginnings, people I've met, New York, California and being a dad.
What's one item that every man needs in his closet?
With no hesitation, a navy blazer should be in everyone's wardrobe.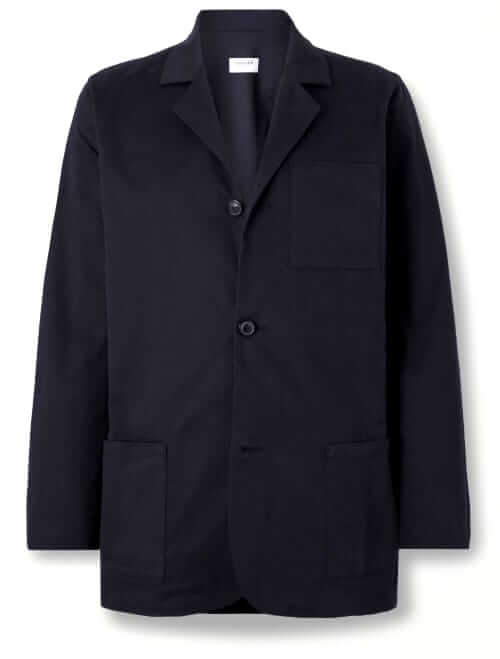 Cotton-twill blazer,
$895 by Ghiaia Cashmere
Beacon sports wax jacket,
$745 by Barbour
What's one item that you cannot part with?
I had this 15-year-old Barbour jacket that I used to wear whenever I drove from Milan to Amsterdam. I thought I'd never part with it. But when I first opened my shop, I had the coat in the window, and this guy kept coming back asking me to sell it, which I eventually did. But the jacket represented so much more—my past life, which I was ready to evolve from.
What's something you're looking to buy at the moment?
I would like to own a sailboat. Carving out the time to dedicate working on one and taking it out is what it's all about.
Three favorite brands, currently?
RANRA, Umit Benan and C.P. Company.
Do you shop more online or in person?
I rarely buy stuff online. I just love the in-person experience, interacting with people and having the opportunity to feel the fabrics.
What city has the best shopping?
I have to say Milan.
What's a necessary extravagance
for you?
All the bad habits that I enjoy! Good food, drinks and people. Not to get too philosophical, but time is the ultimate extravagance. Spending time with the people I love is something I deeply cherish.
What is something you refuse
to spend a lot for?
I have no need for a brand new car. I love repurposing cars and prefer to buy an old one and fix it up, rather than something new.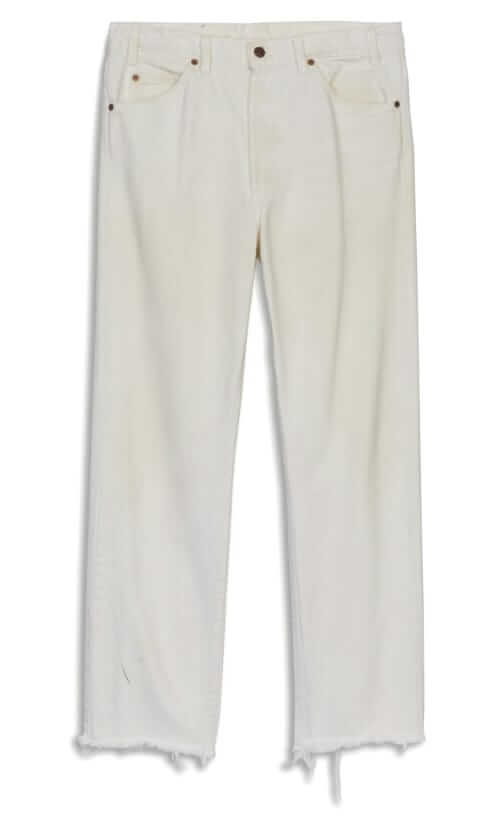 Vintage orange tab
505 jean,
$128 by Levi's
Do you buy anything in multiples?
I can't seem to stop buying white pants at the moment. I've been loving my all-white Levi's 505 jeans.
Which do you experience more: buyer's remorse or regret for not buying something?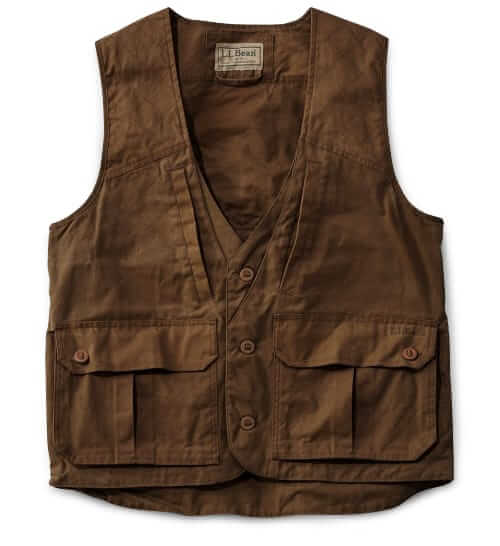 Double L waxed-cotton Upland vest,
$149 by L.L. Bean
I like to live life with neither. But sometimes I regret selling some things. So the lesson, I think, is to hang onto the stuff you love.
What's one shopping hack that you can let everyone know about?
Outdoor stores provide endless resources. Everything they sell has some form of practicality, and it's easy to mix into my existing wardrobe.