Style Strategies
⇾ How James Harris & Lawrence Schlossman Shop
Style Strategies
⇾ James Harris & Lawrence Schlossman, 'Throwing Fits'
The podcasting duo on why this is the "only Style Strategies that matters"
If you want a current snapshot into the menswear landscape and the people who shape it, look no further than hosts James Harris and Lawrence Schlossman, also known as Jimmy and Larry to their faithful listeners on their podcast, Throwing Fits. Their guests range from tasteful media elites to grail-level menswear insiders discussing everything from what they're currently wearing to how much money they make. It's the ideal tongue-in-cheek podcast that has set a certain standard for how modern-day podcasts are running today.
To the average listener, the podcast sounds entertaining and free-flowing—which it absolutely is—but the chemistry between the two is no coincidence. Lawrence and James have a combined two decades in fashion and media, so they're more than equipped to weigh in on a myriad of menswear topics. Besides just talking about clothing, the guys are also making it. Their mesh shorts come in bold colorways and added fuel to the inseam debate fire, and they just launched a cut-and-sew overshirt in March that took over eight months to make and were hand-loomed out of a cotton/dobby blend. Much like their previous collaborations, it sold out in a matter of hours.
There's a reason why their listeners don't mind paying a pretty penny for a product from the duo—they "live this shit" and treat their Instagrams like an open-style forum. Lawrence loves heritage brands and freaks them in his own unique way, and James leans into the sexy Scandinavian look with his flare. We caught up with the fellas from "the only podcast that matters" to see how they've been able to coexist with one another for so long, how they've evolved with their listeners, and why newsletters and the buddy system are the best ways to shop.
Overshirt,
$185 by Throwing Fits
How did your guy's previous collaborations lead to this new Cut and Sew release?
Lawrence: We wanted to create something tangible that our listeners would appreciate. The MR PORTER collaboration helped us hone in on what our audience is willing to pay for a well-made "jawn".
You worked for Complex and Def Jam back in the day. Did this help you become more at ease with well-known people outside the fashion industry?
James: I popped the mystique of famous people whenever Lawrence and I recorded Fashion Bros. at Complex. Stars are just like us—short and anxious like the rest of us. If you can relate to them and have a normal conversation—it's generally reciprocated by celebrities. Also, who cares what inspired the album or show? We care about important questions, like how much you spend on weed every week or your most recent DoorDash order.
You guys have been each other's counterparts for well over a decade now, what's the secret sauce?
Lawrence: We're each other's yin and yang. James always jokes with the guests—he asks the questions, and I'll answer them. We've logged so many hours with one another that it's become second nature. It's been a long journey with one another that seemingly has no finish line. It helps a great deal that we interview people we're interested in and we're able to hold a conversation with them for over an hour.
Your intros have become a signature of the show. Do you remember the first guest you tried that on?
James: I can't remember the first guest, but I do recall the first person I was nervous to try the intro on—Big Boi from Outkast because I rapped his opening bar from 'Bombs over Baghdad' at Stankonia recording studios in Atlanta with lyrical interpolation to tie into Throwing Fits. Luckily, I didn't f#*k it up, and he could tell the interview was going to be fun after that.
You've held every job in fashion, from PR, editorial, retail to resale. What advantages has your experience given you in the podcasting space?
Lawrence: James and I are very fluent in bullshit. All these industries are built on 'cappin' or schmoozing, and the sooner you can sift through it all—you can begin to understand what's authentic. It's enabled us to take small nuggets of truth and authenticity into interviews or products we produce for the TF brand.

We've also been creating content for well over a decade, and it seems like we've survived every version of the internet and menswear era. We can put our own opinions on topics that we touch on during the pod and have been able to grow our audience because of our staying power within the industry.
With all of the media outlets today for guys to learn about style, what step shouldn't someone skip whenever discovering their personal style?
Lawrence: I don't think it's necessarily a step but more of a mindset. Not to get too philosophical, but I wish that guys were doing it for the right reasons. To paraphrase Deion Sanders, "Look good, play good, feel good." You don't throw on a great fit to get likes on IG or get the group chat going, although that's dope. I think about how it is going to improve my mood or how confident a specific jawn makes me feel.
How have you evolved with your listeners?
James: It all goes back to being more comfortable with who you are and being okay with your style journey. Our listeners are generally younger than us, and I think they look to us for guidance on how to wear certain things and put your unique flare and personality into your style. It's also about personal growth, self-awareness, and trying to be a better version of yourself daily.
You both were early adopters of the Our Legacy Camion boots and mules. What's the next wave of footwear?
James: The Camion mule is the next shoe—it's always a topic of conversation in our Discord, so we expect to see a rise in them within the next few months. Asics continue to hit, and Mizuno is doing some intriguing things that people are sleeping on. Weird summer-appropriate footwear like a fisherman sandal will be huge this year.

Lawrence: Classic sand suede Wallabees go with every fit for any season. Catch me in some single-monks with raw denim and I rock em' with suits too.
Camion mule,
$455 by Our Legacy
Wallabee shoe,
$160 by Clarks
How would you describe each other's style in five words or less?
Lawrence on James' style: Fly, dirtbag, gremlin.

James on Lawrence's style: The meat riding's crazy, done right.
Dream guest for the pod?
James: Pusha T because the intro is already done, and I'd take seven minutes to introduce him.

Lawrence: Nicholas Cage. With the wife pleaser and boots on, minus his receding hairline, although I can relate.
Bedale wax jacket,
$395 by Barbour
What's one item that every man needs in his closet?
James: Throwing Fits mesh shorts.

Lawrence: Barbour jacket.
What's something that you cannot part with?
James: I can't get rid of T-shirts.

Lawrence: Nothing is that sacred or precious. I love my current watch, but I'll definitely be selling it to buy another one.
Cabin luggage,
$1,400 by Rimowa
What's something you're looking to buy at the moment?
James: Investing more into my tailoring game. I think J.Mueser is doing the best tailoring right now because it's fun and not too serious.

Lawrence: More Rimowa luggage, for sure.
Three favorite brands, currently?
James: Our Legacy for life, C.P. Company and mfpen.

Lawrence: Our Legacy, Stüssy and Drake's.
Do you shop more online or in person?
James: Online because it's easier, but in-person because it's better. If I'm within a ten-minute radius of a Nepenthes store, I'm going there and canceling the rest of the day.

Lawrence: Online. Cueva and C'H'C'M' to go try on and discover new brands.
What city has the best shopping?
Both: Tokyo. Tokyo is the obvious answer.
Necessary extravagance?
James: Dining out and really well-made, expensive wine.

Lawrence: Free time to watch as many movies as my heart desires. I'll go see a matinee by myself any day of the week.
What is something you refuse to spend a lot for?
James: I don't spend a lot of money on coffee, I enjoy making my own at home. I'd rather buy a bag of $20 beans that'll last me for ten days.

Lawrence: I don't take Ubers. I take public transportation because anytime I'm in the backseat and look at my phone I get car sick.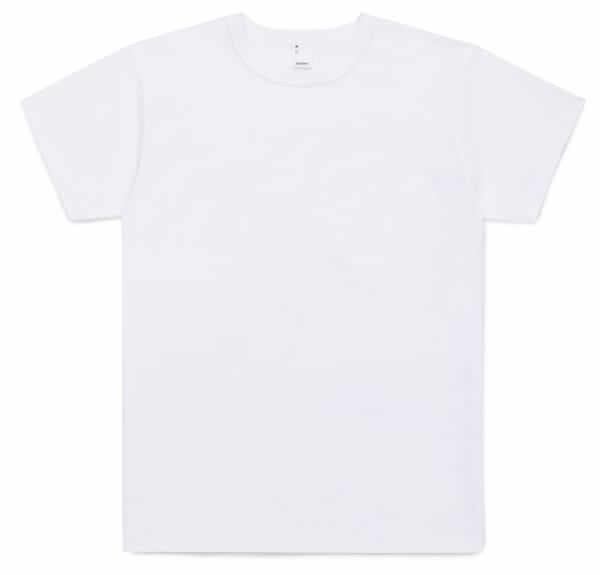 Heavyweight T-shirt,
$98 (for 2-pack) by 3sixteen
What's something you buy in multiples?
James: White tees, especially a fresh two-pack from the homies at 3sixteen. Instead of buying six cheaper T-shirts, I'd rather invest in higher quality ones because I wear them every day. I've been copping a lot of bedding from Tekla as well. Whenever you find something you like, why not just go all in on it?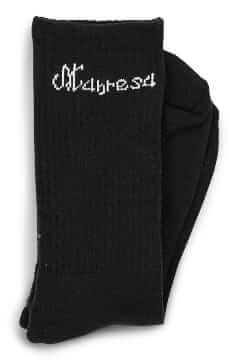 The Core socks,
$11 by Manresa
Lawrence: I'm kind of late to the party, but good socks f**king matter. I'm really digging socks from UNIQLO, Shiro and Aimé Leon Dore also makes great pairs. I've also been living in several pairs from Manresa. I don't steer away from black or white socks, and those brands offer up some of the best.
Which do you experience more: buyer's remorse or regret for not buying something?
James: It used to be regret for not buying something—the older you get, that more you realize this life shit is a marathon. For me, it became more buyer's remorse because I'd be afraid of missing out on something.

Lawrence: I'll regret not buying something, either because I slept on it, or it sold out.
What's one shopping hack that you can let everyone know about?
James: This isn't revolutionary, but there are amazing benefits to signing up for store newsletters, especially discovering new brands. Très Bien does a great job with their newsletter.

Lawrence: Starting the number one men's fashion lifestyle podcast to get free shit, ha! Seriously though, use the buddy system—meet up with someone who has a similar taste level to yours so they can be honest with you on how certain items look whenever you try them on. You just need a homie to keep you honest in your buying process.