Small
But Mighty
The best side tables are sculptural and statement-making
When you think about furniture for your home, I doubt you think much of side tables. Don't lie to try to make them feel better. We all know that these little guys are the under-appreciated middle children of the furniture world. But it's really more of an unsung hero situation. They're incredibly practical—as a catchall for remotes and reading material, a surface for your drinking glass and a platform for displaying a handsome lamp while holding it at just the right height for reading.
Yes, the side table—also known as an end table, occasional table or cocktail table—is incredibly functional. But for such a small piece, these tiny tables can make a big impact on a room. They allow you to take some design risks. They can be bold and sculptural, adding intrigue to an otherwise safe and functional grouping of furniture. As an accent piece at the end of a sofa, situated next to a lounger or between two smaller chairs, they have the ability to make a statement. They can add color, texture and unique architectural shapes to a room. Even the boldest of tables somehow manage to work with nearly any home style or décor.
The real question is which kind of side table speaks to your sensibilities? Along with your individual needs. As more and more of us opt for larger, L-shaped sectional sofas, choosing the right end table can be tricky. You may need a lower tabletop or you could go for more moveable options that could be situated (and resituated) as often as you like. We've shopped around and pulled together a cool collection in a range of styles and prices. Take your pick and give your living room the upgrade it deserves.
The Best Side Tables
for a Man's Home
Stump
Bring some outdoor vibes inside with a table carved from a solid log. Each piece has unique character, with natural variation in knots, holes and woodgrain.
Kyra teak side table,
$199 by Burke Decor
Java pedestal table,
$489 by Dear Keaton
Tolson end table,
$195 by Joss & Main
Stone
A sleek take on a centuries-old idea of a carved podium,
these marble tables are heavy but impactful.
T marble side table,
$299 by CB2
Rose marble plinth table,
$1,895 / $1,610.75 by Menu
Valentia marble accent table,
$791 / $422.44 by Safavieh
Sculptural
These tables can serve as a functional piece of art,
adding interesting shapes and colors to a room.
Charcoal finished fluted table,
$595 by Jayson Home
Wire-brushed
white oak Oslo table,
$1,440 by RH
Sidekick solid wood table,
$90 by Russet
Kyaman side table,
$3,895 at TRNK
Slit steel table,
$495 / $420.75 by HAY
Insert ash wood table,
$885 by Ferm Living x Mario Tsai
For Sectionals
If you have a large, L-shaped sectional, you might want a smaller table that can be repositioned in front of (or slip under) the sofa.
Raw brass accent table,
$229 by Crate & Barrel
Mid-century drink table,
$149 by West Elm
Powder-coated Costa table,
$499 by Room & Board
Adjustable walnut C-table,
$219 by Article
Bowler side table,
$295 / $250.75 by HAY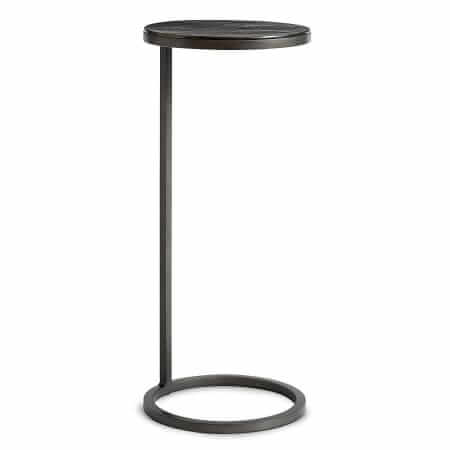 Antique bronze drink table,
$149 by Pottery Barn
Easy Cleaning
Professional housekeepers swear by Guardsman's dusting cloths. The durable cotton rag is pre-treated so no spraying is necessary. Safe for wood, stainless steel and stone, it saves time by removing dust fast and effectively in just one step. Simply shake out over the trash when you're done and it can be reused up to 50 times.
$16.99 (for a five-pack)
by Guardsman