Go Ahead, and Wear White
The 10 best white items to wear right now
When it comes to men's style these days, it seems like all the old rules need not apply. We're living in a time when practically anything goes, so take advantage and ignore one of the stupidest sartorial rules of them all. "No white after Labor Day," really? Why the hell not? Apparently, the dictate came from the days of summering away from the city, as well as socially-enforced dress codes. But white is a cool, refined neutral that no man should give up simply because the seasons change. From trousers and sturdy shirts to cozy pullovers, here are ten easy ways to wear white all the way through next spring.
The 10 Best
Embroidered shirt,
$240 by Our Legacy
Stretch duck canvas trucker jacket,
$128 by Wallace & Barnes
Wool beanie,
$65 by Norse Projects
Blazer low-top sneakers,
$75 by Nike
Chore jacket,
$245 / $158.98 by La Paz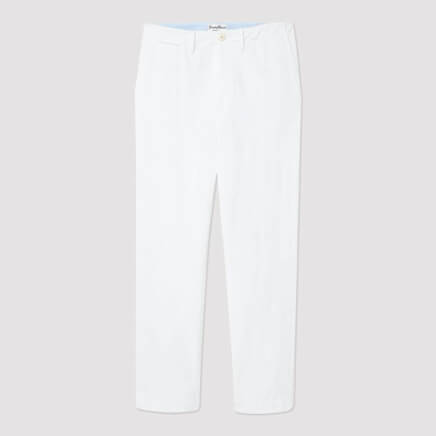 Cotton twill trousers,
$78 by Rowing Blazers
Utility shirt,
$198 by Todd Snyder
Prentis pullover,
$238 by Carhartt WIP
Reverse weave sweatshirt,
$60 by Champion
Performance pique T-shirt,
$30 by Everlane
If you're going to wear this much white, you should be stocked with proven stain-removers. Here are the ones that worked the best for us.