Let Your Denim Breathe
Jeans to keep you cool all summer long
Summer can be notoriously tough for denim lovers. I'm not opposed to wearing shorts, but I will always reach for a nice pair of jeans when I can. I know you might be thinking that it's best to put them on ice until early fall, but you can wear jeans year-round ... if they're the right weight, fit and wash.
One piece of advice is to look for a pair of straight-fit or relaxed-fitting jeans. It's not that we don't endorse skinny or ill-fitting pants, but you have to let the boys breathe a bit—air circulation is key in this situation. If you're a denim head and only wear selvedge, here's some great news: You can wear pre-washed selvedge jeans just to give you a lighter weight and to help prevent some major sweat down in your undercarriage.
Denim comes in all colors these days and a nice white or cream-colored pair of jeans will look particularly sharp with some khaki tones. Think your morning latte for inspiration. Stonewashed jeans are the ideal weight for summertime. Brands like 3Sixteen, RRL and Abercrombie have nailed down the wash to give you that vintage comfort from your first wear. Also, the sun is out, so don't be afraid to have some fun. A nice painter's pants or pinstripe jeans look great, especially in a two-toned indigo colorway like the pair below from Noah. Here, we've pulled together some of our current favorite light-washed denim items. Take your pick.
Best Men's Summer
Denim Styles in 2022
Barton slim Ojai jean,
$235 by imogene + willie
Terek jean,
$247 by A Kind of Guise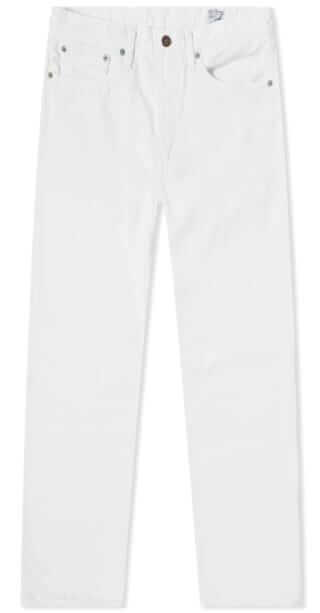 107 Ivy jean,
$208 by orSlow
Chaser jean,
$248 by Mother Denim
Japanese selvedge full saddle jean,
$175 by Buck Mason
Monpetit denim cotton 908 yoppan jean,
$508 by 45R
When to wear
white pants
When to wear
white pants
It's always been a rule to wear white pants or jeans from Memorial Day to Labor Day, but we're here to tell you that rule doesn't matter. Don't put your white pants away come wintertime—they're ready for any season!